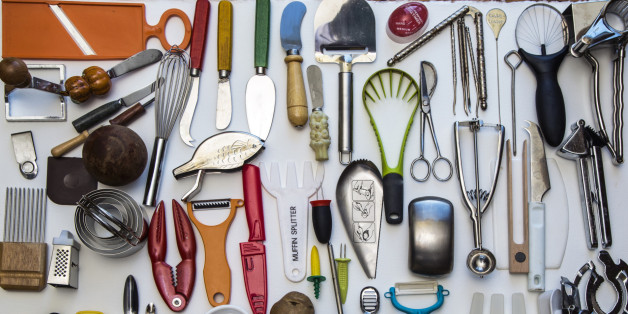 Let us start by saying that this is not an advertisement of any sort. It is just one home cooks love for a simple, but amazing, kitchen gadget.
There are some tools that are absolutely essential in a kitchen. A pot. A pan. A set of knives. You can't do much cooking if you don't have the basic utensils. Then there are some kitchen items that don't seem necessary at all -- but totally are.
The microplane is one of those gadgets that appears superfluous, especially if you already have a cheese grater or just a really sharp knife, but it is absolutely not. A microplane will make your cooking life a million times better. Or at least 10 times better -- one time for all the things it can perfectly grate.
We know we're not alone in our hatred of chopping garlic. It sticks to our fingers. It makes our hands smell bad. And it just takes FOREVER. But with the microplane, mincing (or really, grating) garlic is done in mere seconds. THIS IS NOT AN EXAGGERATION. The microplane makes mincing garlic so simple that you will find yourself adding garlic to everything -- which is a very good thing. And that's just the beginning. Here are 10 reasons that everyone should own a Microplane. (And guys, it costs under $15.)
PHOTO GALLERY
Everything You Can Microplane
Want to read more from HuffPost Taste? Follow us on Twitter, Facebook, Pinterest and Tumblr.
BEFORE YOU GO
PHOTO GALLERY
Easy Slicers