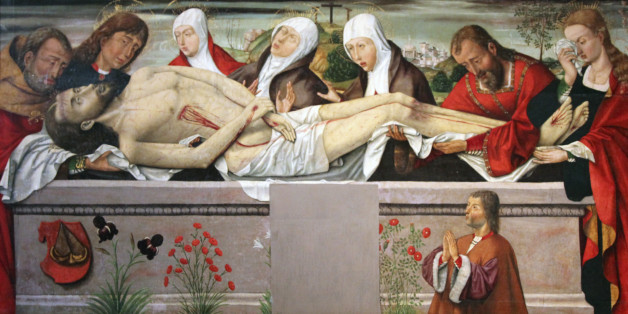 Here's a version of the Easter story you've probably never heard before.
A reporter for WKYT in Kentucky live-tweeted Easter pretending he was a journalist in AD 33 covering the resurrection of Jesus.
What if I was a journalist in AD 33? What if my assignment was to cover events on the resurrection day? First preview tweet coming up!

— Phil Pendleton (@philtvnews) April 19, 2014
From Saturday through Sunday, Phil Pendleton tweeted the events of "Resurrection Day" as if he were traveling alongside Mary Magdalene, Peter, Thomas and other biblical figures.
We've included a few of Pendleton's dozens of tweets below. One word: dedication.
MARY MAGDALINE CALLED…SAID SHE WANTS ME TO WRITE STORY OF JESUS DEATH…INVITED ME TO TOMB EARLY TOMORROW MORNING.

— Phil Pendleton (@philtvnews) April 19, 2014
EARTHQUAKE REPORTED NEAR JESUS BURIAL PLACE. HEADED THERE WITH MARY MAGDALENE TO FIND OUT WHAT'S GOING ON.

— Phil Pendleton (@philtvnews) April 20, 2014
MARY AND SOME OTHER WOMEN WITH SPICES AT TOMB. SOMEHOW..LARGE STONE THAT COVERED JESUS TOMB HAS BEEN ROLLED AWAY. JESUS IS NOT INSIDE?

— Phil Pendleton (@philtvnews) April 20, 2014
DID SOMEONE STEAL HIS BODY? WHAT'S GOING ON? MAN DO I HAVE A SCOOP HERE.
MARY HEARD SAYING…GO TELL PETER.

— Phil Pendleton (@philtvnews) April 20, 2014
JUST GOT TO PETER'S HOUSE….ANOTHER DISCIPLE IS THERE. NOT SURE WHO HE IS.

— Phil Pendleton (@philtvnews) April 20, 2014
PETER AND DISCIPLE ARE AT TOMB. WE'VE ALL BEEN RUNNING AND OUT OF BREATH.
SURE ENOUGH…NO ONE IN THE TOMB.

— Phil Pendleton (@philtvnews) April 20, 2014
I DON'T THINK I'VE EVER SEEN SUCH EXCITEMENT….YET FEAR AT THE SAME TIME.

— Phil Pendleton (@philtvnews) April 20, 2014
WAIT! OH MY! THAT'S JESUS! HOW…..IS..THIS…POSSIBLE??!!!!!

— Phil Pendleton (@philtvnews) April 20, 2014
THIS STORY IS GETTING BETTER ALL THE TIME. NOT SURE WHO THIS GUY WHO KNOWS SO MUCH IS…BUT HE'S GOT MY ATTENTION. DON'T THINK THEY SEE ME.

— Phil Pendleton (@philtvnews) April 20, 2014
EN ROUTE TO EMMAUS TALKING ABOUT MORNING'S EVENTS….
TWO OTHERS ARE JUST AHEAD OF US…TALKING ABOUT IT TOO.

— Phil Pendleton (@philtvnews) April 20, 2014
BREAD ARRIVES AT TABLE WITH THREE. HE'S SAYING GRACE. HOW NICE. AND SO POLITE.

— Phil Pendleton (@philtvnews) April 20, 2014
HE'S GIVING THEM BREAD. SOMETHING ABOUT HOW HE'S DOING IT….ALMOST MAKES ME WANT TO CRY. CAN'T EXPLAIN THIS EMOTION….

— Phil Pendleton (@philtvnews) April 20, 2014
OH MY! THAT'S JESUS! HOW DID I NOT KNOW BEFORE!

— Phil Pendleton (@philtvnews) April 20, 2014
WHOAAA…..JESUS IS HERE. SUDDENLY. WITHOUT ANY WARNING. DON'T KNOW HOW TO EXPLAIN THIS.

— Phil Pendleton (@philtvnews) April 20, 2014
NOW JESUS IS ASKING FOR SOME FOOD.
HE'S EATING SOME FISH.
HE'S TALKING ABOUT FULFULLING THE SCRIPTURES AGAIN.

— Phil Pendleton (@philtvnews) April 20, 2014
WOW..ALL OF A SUDDEN EVERYTHING HE'S SAYING…JUST MAKES SENSE…I CAN'T EXPLAIN THIS.

— Phil Pendleton (@philtvnews) April 20, 2014