Sometimes, all you need to start a global art project is 400 butterflies and an internet connection. That was the case, in a sense, for Tasha Lewis, the mind behind "Swarm the World," an international street art project that wants to decorate countries from Iceland to Tasmania in a stunning collection of blue-tinted butterfly drawings.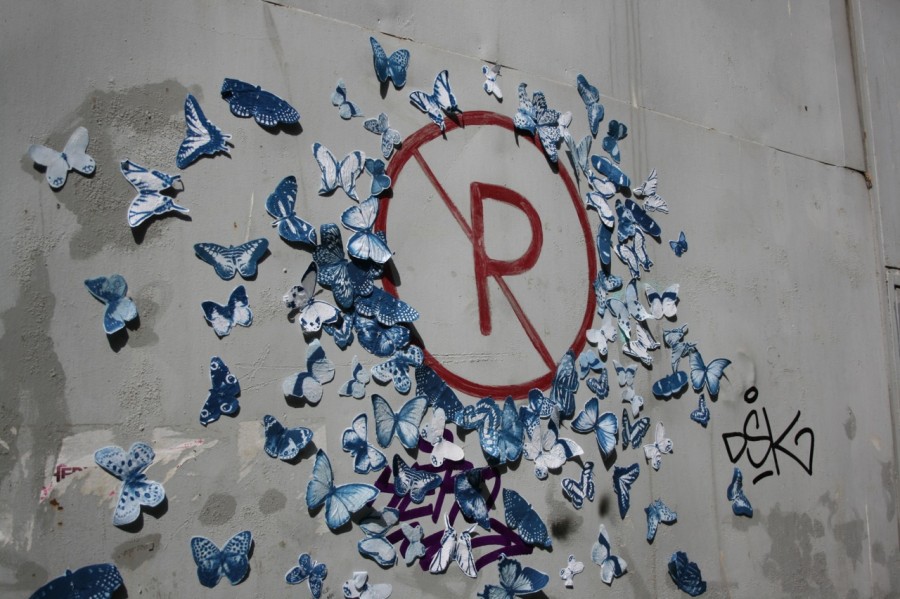 Lewis is seeking collaborators from all over the world to host a swarm of 400 butterflies, magnetized artworks that could be scattered around hometowns for a duration of four weeks before being shipped off to the next participant. Think of it as a giant chain letter experiment, consisting of 100 people, groups or organizations that want to spread the beauty of public art.
"This idea was born out of the fact that I, as an individual artist living in NYC, cannot currently travel around the world (as much as I wish I could)," Lewis writes on the project's website. "I can, however, organize a massive social experiment where I send out groups of butterflies to willing participants who will then add their own installations to the project through digital and analog platforms."
The idea is simple (if not ambitious): Lewis created 4,000 magnetic cyanotype butterflies in total, divided into 10 batches of 400. Each batch will be sent out to a first round of collaborators, eventually destined to reach nine other individuals and organizations after that. Lewis' carefully crafted packages include the blue-and-white artworks, a notebook to keep track of their journeys, a how-to guide on the project and a medical kit... in case the fragile pieces experience the wear and tear of travel.
Each participant will spend one month with the butterflies, sharing pictures and stories on social media and populating an online map for all to see. "The final round of participants will ship the butterflies back to me in New York," Lewis explains, "where I will organize a capstone gallery show with our collective images from all over the globe."
According to several accounts, the number of butterflies migrating to Mexico has been dropping sharply in the past few years. A record low of just 60 million monarchs made it to the winter destination in 2012, The Washington Post reports. Perhaps Lewis' project will also bring awareness to the growing concern around the insects' fate.
Scroll through images of Lewis' butterflies -- which she has already spread through her personal project, Guerilla Sculpture. Check out the project's website to find out how you can participate in "Swarm."
PHOTO GALLERY
Swarm the World