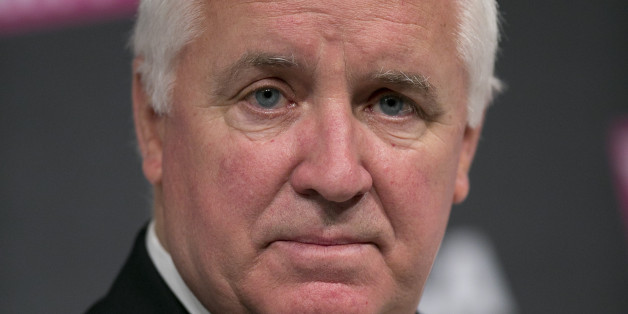 Gov. Tom Corbett is under fire from all directions.
Four Democrats seeking the party's nod to run against Corbett in November are laying waste to his first-term record. Bob Guzzardi, a Republican challenger in the May 20 primary, contends Corbett broke campaign promises and alienated the party's base. Two of three voters disapprove of Corbett's job performance, according to a recent poll.
Pennsylvania's five previous governors comfortably won second terms when the state began allowing them to seek re-election in 1970.
"I was never projected to win any race I've ever won," Corbett said in an interview with the Tribune-Review. "We made promises to the people of Pennsylvania; we kept those promises. We haven't raised taxes. We've controlled our spending."
State Republican Party Chairman Rob Gleason said Corbett did not go to Harrisburg to be popular.
"He went to do a job. He hasn't shirked his responsibility of being a leader and making hard decisions," Gleason said. "I think people will recognize that by the time the election rolls around in November."
He said Corbett inherited a $4.2 billion budget deficit in 2011 as the economy still reeled from the Great Recession and federal stimulus money dried up.
A Robert Morris University poll last month showed just 32.5 percent of likely Pennsylvania voters approve of Corbett's job performance. Only 20.7 percent said they intend to vote for him in November, and 40.3 percent said they would choose the Democrat -- whoever that is.
Worse, the poll said 36 percent of Republicans have an unfavorable impression of Corbett.
"The only poll that matters is on Election Day, and that's six months away. That's a lifetime in politics," said Corbett campaign spokesman Billy Pitman.
'Smooth, unflappable'
Corbett, 64, was born in Philadelphia, but his family moved to Shaler when he was in the first grade. His father was an attorney who worked in the administration of former Republican Gov. Raymond P. Shafer. His mother was a homemaker.
Corbett earned a bachelor's degree in political science from Lebanon Valley College near Harrisburg. He taught high school civics and history in Schuylkill County for a year, then went on to earn a law degree from St. Mary's University in San Antonio.
He was an officer in the Pennsylvania National Guard.
Corbett worked as an assistant district attorney in Allegheny County, then an assistant U.S. Attorney for the Western District of Pennsylvania under President Ronald Reagan, and as the district's top attorney under President George H.W. Bush.
"He was very smooth, completely unflappable. No matter what anyone did on the other side, he wouldn't react," said Allegheny County President Judge Jeffrey A. Manning, a friend of Corbett's for about 40 years.
Corbett was Pennsylvania's attorney general as an appointee of Gov. Tom Ridge from 1995 to 1997 and was elected to the office in 2004 and 2008. He directed the high-profile "Bonusgate" and "Computergate" public corruption cases, in which three former state House leaders and more than a dozen legislative staffers were convicted.
He convened a grand jury in 2009 to investigate allegations of sexual abuse by former Penn State University assistant football coach Jerry Sandusky, who is serving 30 to 60 years in prison for molesting 10 boys during a 15-year period.
Critics say the 33-month investigation took too long.
'$2 billion tax increase'
Corbett defeated former Allegheny County Executive Dan Onorato in 2010 by 8 percentage points, campaigning on a platform of fiscal discipline, limited government and free enterprise. He signed a no-tax pledge.
His signature achievement has been working to increase funding for the state's crumbling transportation system by raising fees motorists pay and uncapping the oil company franchise tax that wholesalers pay.
The biggest opposition came from within Corbett's party.
Rep. Daryl Metcalfe, R-Cranberry, called the transportation plan a "$2 billion tax increase."
Although Republicans control the House and Senate, Corbett has not been able to advance other reforms on which he campaigned, such as privatizing the state's liquor stores and overhauling the pension system.
The state Supreme Court struck down portions of Act 13, a key piece of legislation that gave the state authority over zoning matters related to natural gas drilling, among other things.
"He made a lot of promises on the campaign trail, none of which came to fruition," said state Democratic Party Chairman Jim Burn of Millvale, who said Pennsylvania's job growth rate lags behind most states and education cuts under Corbett resulted in elementary and secondary school employment falling by more than 20,000.
Corbett's office has said cuts to education funding were a result of losing federal stimulus funding.
Pitman said Pennsylvania has added more than 150,000 jobs since Corbett took office, and the 6.2 percent unemployment rate in March was a five-year low for the state and lower than the national average.
His campaign said Corbett helped spur growth by reducing spending, enacting property tax reforms and eliminating the inheritance tax for family farmers and small business owners. The governor opposes imposing a severance tax on natural gas extraction -- something the four Democrats support.
Marcellus shale gas drillers "have to pay a fair share. They already pay taxes," Corbett said, noting that they pay an impact fee.
Corporate and other taxes paid by drillers totaled $2 billion since 2008, and the shale industry developed 30,000 jobs, he said.
Still, Joseph DiSarro, chairman of the political science department at Washington & Jefferson College, said he is surprised Corbett's poll numbers are not lower, given how aggressively the Democrats appear to be campaigning against him and not one another.
Guzzardi's presence in the GOP race "limits what Corbett can do with respect to responding to Democratic attacks, because he has to protect his right flank."
DiSarro still thinks Corbett will win a second term.
Teams' lucky charm?
Corbett has one record as governor that amazes Allegheny County's top-ranking elected Democrat.
"When he attends a Pittsburgh sporting event and touches the field before a game, our teams are 14-1. It's incredible. He has this good luck thing," County Executive Rich Fitzgerald said.
Fitzgerald acknowledged that his politics differ from Corbett's on many issues. But he noted that the governor worked to prevent catastrophic service cuts at Port Authority in 2011, boost state transportation funding last year, and provide incentives to entice filmmakers and developers to do business here.
"We may not agree on every issue, but I find the governor to be very fair-minded and engaged," said Fitzgerald, who endorsed Democratic front-runner Tom Wolf, a York County businessman.
Tom Fontaine is a Trib Total Media staff writer. Reach him at 412-320-7847 or tfontaine@tribweb.com. Staff writer Brad Bumsted contributed to this report. ___
BEFORE YOU GO
PHOTO GALLERY
United States Governors