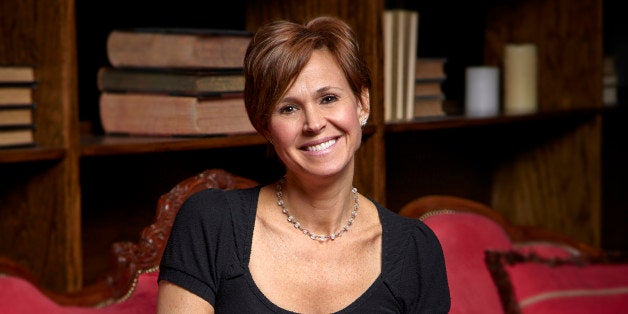 Restaurateur Amy Morton is no stranger to the culinary world. The business, she said, chose her, not the other way around.
The daughter of Morton's The Steakhouse founder Arnie Morton, she was practically raised in the restaurant industry. She wasn't even 30 years old when, in 1989, she opened a popular restaurant called Mirador in Chicago's Old Town neighborhood.
Mirador was celebrated by food critics and diners alike -- so much so that the restaurant and its connected lounge, The Blue Room, were frequently packed. But it wasn't long before Morton realized that something was missing.
"We'd have the busiest days [at Mirador], and I'd look out at the dining room and sit there and just feel empty," Morton told The Huffington Post. "I was not a terribly pleasant person. I was really rough on people and had the shortest fuse and lost my temper. I didn't like who that was. I was not happy."
One day, somebody knocked on Mirador's door and asked to buy the space. Morton knew she'd found her way out. The restaurant closed in 1993, and she decided to start over.
Though she continued to work in the restaurant industry as a way to pay the bills -- she founded her own consulting firm and later worked as director of operations for a restaurant group -- her path to self-discovery became a central focus.
She said it all started "accidentally" with a trip to visit friends in Thailand. That trip, she said, was "just like aha after aha after aha" and sparked an interest in Buddhism.
Slowly, she said, everything "clicked into place."
"Along this path, another side of myself that had always existed became much more prevalent," she said.
In the years that followed, Morton met her husband, Neal, and had three daughters. Her father passed away in 2005. And in November 2012, she opened her new restaurant -- Found Kitchen and Social House, just north of Chicago in Evanston, Ill. -- to more acclaim and high demand. Earlier this year, she begrudgingly began allowing reservations because waiting times were growing so long.
"I always wanted Found to be a place people could walk into, but our clientele really wanted this," she said, noting that the restaurant still holds some "neighborhood tables" for walk-in diners. "I feel like listening is important."
Morton, now 50, came to the realization that she wanted to open another restaurant five years prior to establishing Found, but she knew she shouldn't rush the process. She attributes the delay to the ongoing process of coming to better terms with her inner self, working past self-doubt and second-guessing.
"It was a process of me finding myself," she said of the restaurant's concept developing into a reality. "Eventually, I figured out that even if it failed, I had to try it. I would be more regretful not having tried it even if it failed because I'd always be wondering."
Morton's new business is a direct reflection of the lessons she learned along her personal journey. The restaurant focuses on rustic New American dishes, served in a "relaxed, creative" atmosphere that is "inspired by 1920s Bohemian Paris and icons of the Beat Generation" and furnished with almost entirely "salvaged" furniture and decor, according to its website. Found chef Nicole Pederson relies on locally sourced, in-season ingredients whenever possible.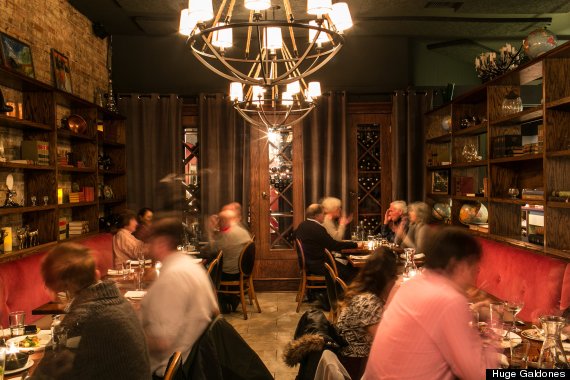 Inside the dining room at Found.
But Found has a mission beyond serving great food. The restaurant runs a pop-up "Moveable Feast" dinner series that benefits a different local charity each month and offers its space at cost for nonprofit groups to use every first Monday of the month.
Morton, who serves on the board of the Evanston-based nonprofit Connections for the Homeless, also makes it a point to hire and train individuals coming out of homelessness. While the initiative has had "a couple unbelievable success stories just in this short time that have been worth everything," she acknowledged there have been some struggles, too.
"Most of the time our hires haven't worked out for various reasons, and that's really frustrating, too," Morton said. "It's heartbreaking when I can't hire people, people who I know really need a job but I know it's not going to be a right fit. It's still a business and not a social service agency."
In an effort that might help address that problem, Morton is involved in early conversations around establishing a culinary arts training school in Evanston that would be focused on "serving a more marginalized population."
Though Found is already a commercial success -- which she is "incredibly proud of" -- Morton said she still yearns for success in a different sense.
"I feel so much more needs to be done," she said. "It's wonderful feeding people, but there is a difference between feeding people of wealth and working with people who need that steppingstone to living a more independent life. Every day, I try to bridge that gap. To me, making a difference is the defining thing."
BEFORE YOU GO
PHOTO GALLERY
Daily Meditations