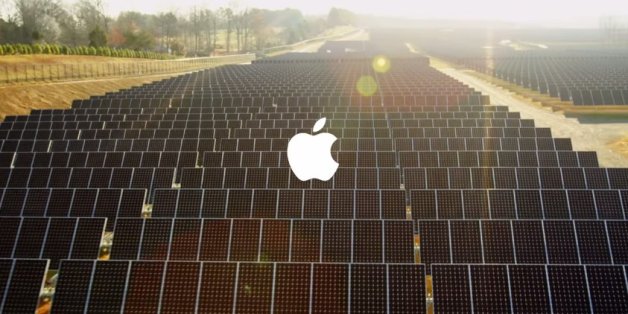 Apple doesn't usually take public shots at its competitors, but for Earth Day it seems to be making an exception. The Cupertino, Calif., company released full-page ads in several newspapers encouraging the promotion of solar energy while also taking a shot at Samsung.
Apple ad on back cover of this morning's Metro: 'There are some ideas we want every company to copy'. pic.twitter.com/RNbgBNtjHZ

— David McClelland (@DavidMcClelland) April 22, 2014
Apple and Samsung have been locked in an ongoing legal battle since 2011 over trademark patents that Apple claims Samsung infringed upon. In the ad, which appeared in several newspapers on April 22, Apple takes a tongue-in-cheek approach to promoting solar energy by inviting other companies to "copy" that aspect of its business.
The full text from the ads, according to MacRumors, reads:
There's one area where we actually encourage others to imitate us. Because when everyone makes the environment a priority, we all benefit. We'd be more than happy to see every data centre fuelled by 100% renewable energy sources. And we eagerly await the day when every product is made without the harmful toxins we have removed from ours.

Of course we know we can continue to do better. We've set some pretty ambitious goals for reducing our impact on climate change, making our products with greener materials and conserving our planet's limited resources. So the next time we come across a great idea that can help leave the world better than we found it, we look forward to sharing it.
According to CNET, all of Apple's data centers are powered entirely by renewable energy. The company is using Earth Day to focus attention on its data center in Maiden, N.C., which is powered by a sun trap of solar panels that generate 167 million kilowatt-hours of renewable energy per year.
The Earth Day newspaper ad is the latest in Apple's "Better" campaign, which the company introduced earlier this week. The environmental campaign kicked off with a video, narrated by Apple CEO Tim Cook, outlining the company's efforts to reduce its environmental impact.
Apple is also stepping up its product recycling program in honor of Earth Day, expanding its program of giving gift cards redeemable for any Apple products in exchange for people's old iPhones and iPads, no matter their age. However, it's important to note that people will only receive a gift card if their product can be refurbished.
Check out Apple's "Better" campaign video below.