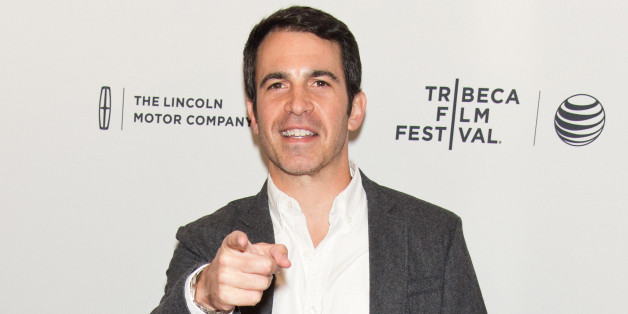 Chris Messina is more than just Danny Castellano and that actor from all the movies (almost literally all of them). He's a director now, too: The 39-year-old Messina brought his debut film, "Alex of Venice," to this year's Tribeca Film Festival.
Co-written by Katie Nehra and Justin Shilton (with a script polish by Jessica Goldberg), Messina's first feature follows the title character, Alex (Mary Elizabeth Winstead), after her husband (Messina) walks out on their family. That leaves Alex to raise the couple's son (Skylar Gaertner), take care of her father, an actor in failing health (Don Johnson), and continue her work as an environmental lawyer.
"I was very nervous about directing. I knew that it required a bunch of great people to support me," Messina said in an interview following his film's world premiere. To make sure things went smoothly, the Long Island native surrounded himself with a surfeit of talented collaborators, including editor Amy McGrath (who worked previously with Steven Soderbergh), cinematographer Doug Emmett (who was director of photography on "Damsels in Distress," "Bachelorette" and "The One I Love") and composer David Wingo (David Gordon Green's go-to music maker).
"It started out with having these great producers, too," Messina said of Jamie Patricof and Crystal Powell. "These guys did 'Half Nelson,' 'Blue Valentine,' 'The Place Beyond the Pines.' For them to want to work with me -- or put that trust in me -- was really cool."
HuffPost Entertainment spoke with Messina about directing and the advice he received from some famous Oscar winners before undertaking "Alex of Venice."
I'm sure you've been asked this a lot, but was directing something you had always wanted to do?
I directed plays here in New York. Off-Broadway, small, black-box theater stuff. I think as an actor, I realized that I had a specific way that I liked to work, and I was always seeking out those people. Sometimes I found them, a lot of times I didn't. So, I always wanted to kind of create a space where I could work the way I wanted to as an actor, and actors who I loved could work the same way. We would keep the camera on for about 27 minutes or so, which is the duration of a card in the Alexa camera without cutting. I kind of like doing that. Some people think it's indulgent, but I like doing that because when you cut, someone comes over and they fix your hair or they adjust your mic. The director starts talking to you. You check your cell phone. You come out of the scene. I like to stay in, though, so we worked that way.
Would you do the scene over and over again, or just extend sequences for 27 minutes?
Sometimes we'd do the scene over and over again, or sometimes we'd go into an improv. Or we'd do silent takes. I was lucky enough to meet with Francis Ford Coppola before I shot the movie, and he said do silent takes, because you'll want them when you're cutting away for reaction shots. I loved doing it. Sometimes we'd feel uncomfortable, sometimes we'd start laughing, and sometimes something real would happen. Then I'd have that to cut to.
Francis Ford Coppola is a pretty great resource. You've worked with so many incredible filmmakers so far in your career, who did you seek counsel from?
Guys who I really tried to steal from were Woody Allen, Sam Mendes and Ben Affleck. Ben, I had asked some advice about things. What it is, though, is all those movies and filmmakers -- even the ones you didn't gel with or didn't like the way they worked with you -- they all tattoo themselves on you. They become your makeup. You're constantly pulling from, and learning from, the stuff that worked and the stuff that didn't work. Sam Mendes gave me advice that I constantly repeat: every actor comes with a gift, and it's my job to let that gift out. I tried to do that on the set. I tried to invite these actors to play, and hire them and use them for their gifts. I think if you give any actor confidence, they'll really fly.
You get really great performances from Mary Elizabeth Winstead, Derek Luke and, in particular, Don Johnson. Was working with actors something you knew would be a strength because of your background?
I was least nervous about the actors and most nervous about the camera. But in terms of directing the actors, I think the best thing that I might have done is stay out of their way. I think directors sometimes feel a need to direct, and so did I. I'm not excluding myself from that list. But I tried to shut the hell up. That's what Woody Allen does. If you cast it right, you just guide them.
I feel like this came up when Ben Affleck was cast as Batman: that as an actor, he can make four movies in the time it takes him to direct one. You've got a full-time job on "The Mindy Project," are you going to be able to balance that with making another film in the future?
The dumbest thing I did was doing post-production while filming the television show: it was two full-time jobs. I actually told Affleck that. He is a superhero, because he can do 20 different things at the same time. I don't know when he sleeps. He's working on so many different scripts and projects. So, I told him what I was doing and he said, "Are you fucking nuts?" When he said that to me, I thought, "If he thinks that, I must be nuts. How am I going to pull this off?" So that I would never do again. I would love to direct again, but I would have to clear my plate to do it.
What kind of director do you want to become?
I grew up loving the films of the 1970s. I'll mention gigantic filmmakers that I will never touch, but Sidney Lumet, Coppola, Martin Scorsese, Hal Ashby, Robert Altman. These are films that I love, and films that I watched for this movie. I'd like to do a New York City film. I have a story that I'm working on about a New York firefighter that's interesting to me. So, we'll see. I love character-driven pieces.
This interview has been edited and condensed.
BEFORE YOU GO
PHOTO GALLERY
Tribeca Film Festival 2014