It's easy to write off the Oxford Dictionary's 2013 Word of the Year as a silly, narcissistic fad. But every once in a while, a selfie comes along that really is more art than duck-faced cry for Instagram attention.
To prove our point, we decided to treat the form with the respect it deserves and round up our favorite face-facing photos of all time. Whether it's for the courage displayed or impeccable fashion taste on view, we think you'll agree that these 29 self-portraits are impossible to dislike.
29. The "Sellotape" Selfie
Painful to look at but impossible to look away from, the Sellotape trend was an odd but fun phase for selfies.
28. Baby's First Selfie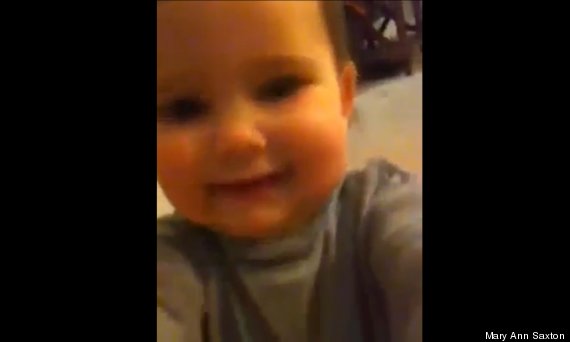 We've got a quick learner over here! This little one figured out how to use her mom's phone and then snapped this adorable addition to our list.
27. The "Just Let Me Do It" Octopus Selfie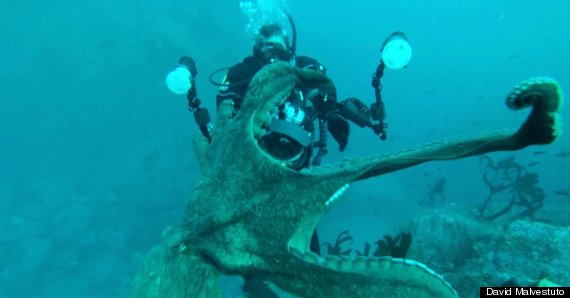 The octopus is perfectly capturing the essence of the selfie here: If you want a picture taken the right way, you have to do it yourself.
26. The "Who Will Be King Of Late Night?" Selfie
It's like they knew they'd be network rivals someday and were flaunting the secret right under our noses.
25. The "Sea Eagle" Selfie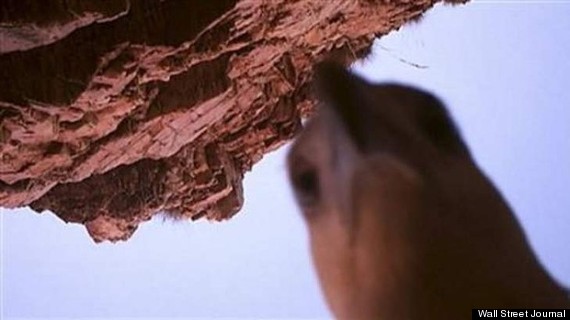 This sea eagle managed to not only steal a motion-sensing wildlife camera, but to also nab this epic selfie as well.
24. The "Human-Dog Hybrid" Selfie
It's impossible to tell where one ends and the other begins.
23. Selfie-Ception
Selfies within selfies? We need to go deeper.
22. The Grossest Selfie Ever Taken
Ouch pic.twitter.com/8DfILryNg7

— Mitch Callahan (@Mcally15) April 3, 2014
This photo will turn your stomach, but seeing what this hockey player looked like when he still had all his teeth makes this photo even more gruesome somehow.
21. The "Giraffe Pullin' A Miley" Selfie
The giraffe sticking his head into the car to do a Miley-inspired tongue selfie is one thing. The kid remaining composed enough to make the same face instead of losing his mind because OMG THERE'S A GIRAFFE IN THE CAR? That's impressive.
20. The Selfie That Brought Kanye Home
Kim K knows the art of the selfie, but this little white number not only drew attention becuase of Kim's, erm, assets, but because of Kanye's priceless reaction.
19. The Slelfie
Sloths have proved that they can photobomb with the best of them, but now we can add "adorable selfies" to their list of photographic achievements.
18. The "Papal" Selfie
@KofC epic #selfie #PopeFrancis pic.twitter.com/CLYduUpxDA

— Fabio M. Ragona (@FabioMRagona) August 29, 2013
The Pope has been giving new meaning to the #blessed hashtag lately by posing for a few papal selfies.
17. The "Bill Nye, The Selfie Guy" Selfie
The best part of this selfie is that The Science Guy himself is taking the picture, as if he's the fan instead of those other guys.
16. The "Mark Wahlberg Sees You Taking A Selfie" Selfie
You thought you were sneaky, didn't you, lady? Marky Mark knows. He always knows.
15. The "10 Years On Mars" Selfie
The Mars Rover celebrated its 10th year on Mars by taking this selfie over the course of three days. Talk about having sore cheeks!
14. The "Something Awful Is About To Happen" Selfie
Because there's nothing more cringeworthy than knowing something horrible is going to happen and having no way to stop it.
13. The "OMG Were You Just In A Plane Crash?!" Selfie
It almost looks like a fun day on the ocean, until you see the sinking plane in the background.
12. The "Call A Doctor" Selfie
Selfie with my teacher while she having contractions 😄 pic.twitter.com/EuOf7vTxlc

— Malik . (@SpideyNikka) October 15, 2013
The student who snapped a pic with his teacher (who just happened to be in labor) proved that anything can be a perfect selfie backdrop if you sell it with a smile.
11. This Super Classy Mirror Shot By Jackie O.
Here is Jacqueline Kennedy's selfie of 60 years ago with sister-in-law Ethel & JFK (in mirror): #Mcinnis pic.twitter.com/HamNJSFuId

— Michael Beschloss (@BeschlossDC) March 13, 2014
Ok, can we talk about how flat-out gorgeous Jackie O. looks in this mirror pic? Proof that the mirror shot doesn't need to involve a tongue sticking out or a peace sign.
10. Ellen's Infamous Oscars Selfie
If only Bradley's arm was longer. Best photo ever. #oscars pic.twitter.com/C9U5NOtGap

— Ellen DeGeneres (@TheEllenShow) March 3, 2014
It may be the most viral, and it may be filled with beautiful people including Jennifer Lawrence and Lupita Nyong'o, but the fact that it just won't go away is preventing it from achieving top-spot status on this list. And as for Jimmy Kimmel's attempt at copying it with the three Clintons? No one likes a copycat, Jimmy.
9. The "Aviators Throwback" Selfie
Hunter S. Thompson's selfie has nailed three major criteria for a great selfie: It was taken in 1960, so prime #tbt status; it was taken in Puerto Rico, so hello exotic locale; and those aviators? Joe Biden would be proud.
8. The "Presidential" Selfie
Speaking of the VP, he made his Instagram debut with a series of awesome pics, including this bromance shot of him and President Obama. Someone knows how to make a social media entrance, amiright?
7. The "George Harrison On Holiday" Selfie
Leave it to one of the Beatles to get a perfect selfie in one of the world's most popular tourist destinations -- with almost no tourists in the background.
6. The "Daredevil" Selfie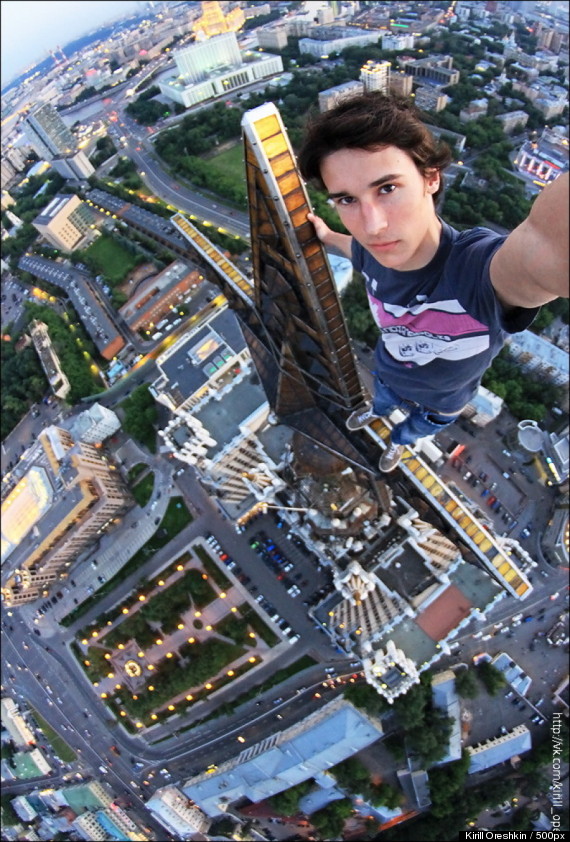 Russian daredevil Kirill Oreshkin has taken the category of extreme selfies to dizzying new heights. (See what we did there?)
5. The "Top Gun" Selfie
Talk about highway to the dangerously good selfie zone. This Danish F-16 pilot perfectly timed this seflie shot, capturing a just-fired AIM-9 missile in the background.
4. The "Beyonce Photobomb" Selfie
Beyonce's selfie with this lucky fan proves that Queen Bey is always photo-ready, even mid-song.
3. The Most Dangerous Selfie Ever Taken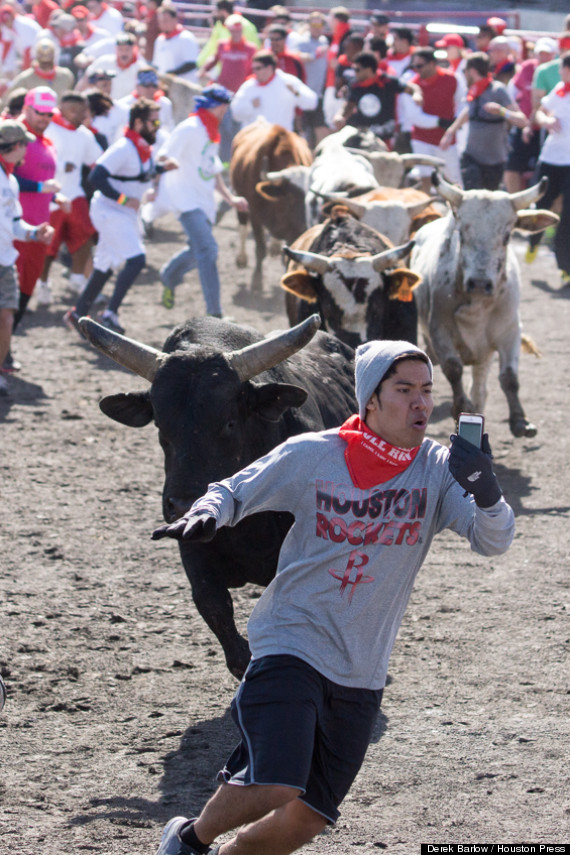 You gotta hand it to this guy. He did it for the Vine. Or, I guess the selfie. Or the selfie Vine. Whatever. Dude is recording himself while almost getting mauled by a bull. He wins Badass of the Week.
2. The Selfie in Spaaaaaace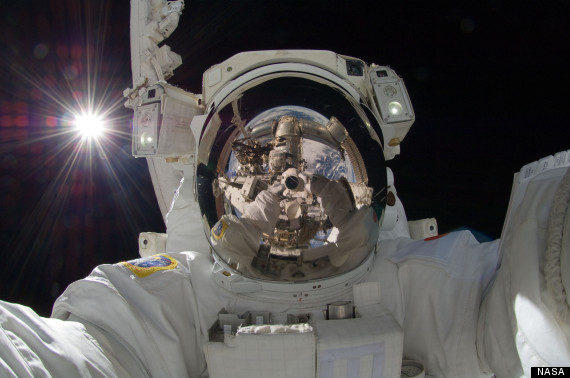 When it comes to International Space Station astronaut Aki Hoshide's perfectly reflected Earth-space selfie, Buzzfeed reporter Andrew Kaczynski said it best when he tweeted, "There are selfies, and then, well there are selfies." We definitely think this falls into the latter category.
1. The World's Oldest Selfie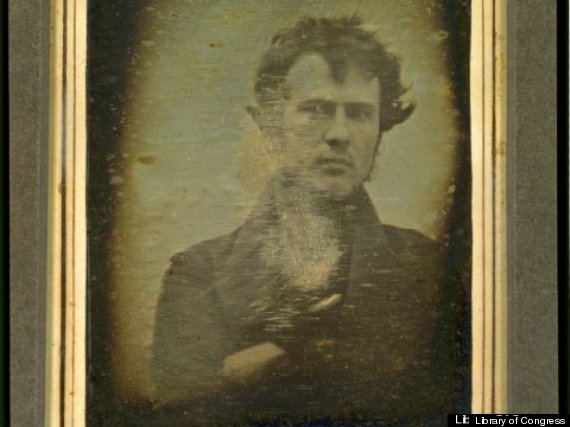 It's hard to beat an original. When it comes to choosing the best, you have to hand to it to the guy who started it all. The Library of Congress believes this disheveled self-portrait by Robert Cornelius, taken outside his family's lamp and chandelier store, is the oldest ever captured.