Last November, New Zealand outdoorsman Michael Armstrong was watching a cricket match in his local pub when he thought of penguins. A friend had told him about a program that was sending an explorer-in-training to Antarctica to study the effects of climate change, and the application was due in a few hours.
"I thought about this sort of angle where I could talk about the penguins being dressed in tuxedos and Antarctica being their ballroom, but their ballroom was under threat because of global warming and climate change," he recently told The Huffington Post.
The pitch Armstrong made and that of student filmmaker Marli Lopez-Hope were selected from 2,000 applications to participate in Air New Zealand's "No Ordinary Place, No Ordinary Assignment" program. The goal was to highlight the growing peril Earth is facing even in one of its harshest environments.
The pair went to Antarctica with National Geographic photographer Jason Edwards. Together, they spent two weeks in January living at New Zealand's Scott Base, including three days sleeping on the Ross Ice Shelf among 40,000 breeding pairs of the Adelie penguins. Armstrong and Lopez-Hope assisted with ongoing research projects, including drilling for ice samples, tagging penguins and mapping the ice shelf.
Story continues below.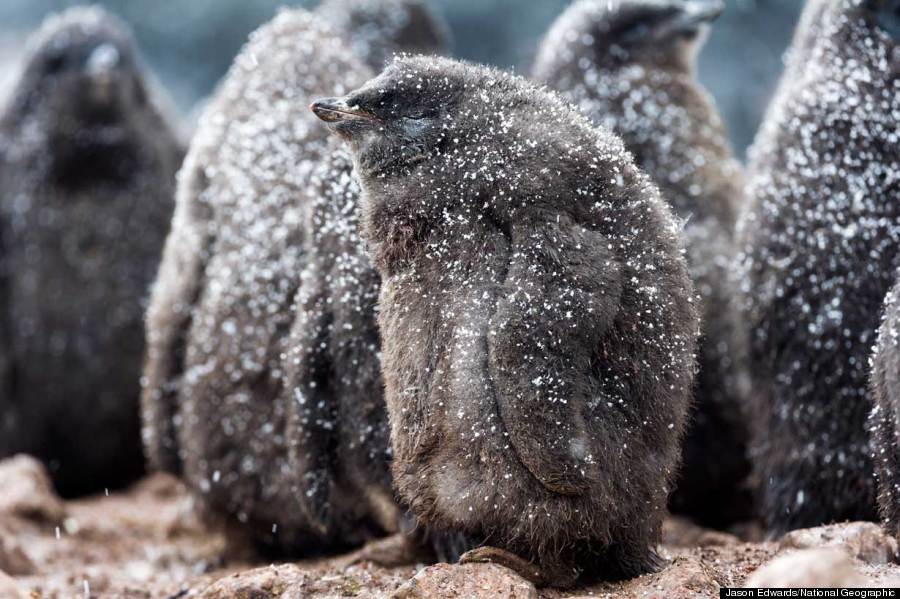 Take a look at more of Edwards' incredible photos at the end of this article.
As for those Adelie penguins that Armstrong envisioned in their icy ballroom, he said, "It turns out they're pretty terrible dancers. They look like small people dressed in trench coats and they've had too much to drink and they're not really sure why they're where they are and what's going on. They'll come up and they'll sort of scope you out -- they're about a foot tall and you're six times their size, and they'll have a go at you."
But more important, he said, was that "being alongside them was pretty special, to see the ... family life and the life cycle of these penguins. It's a really tangible face for the impacts of climate change."
Antarctica sits on the cutting edge of climate change. Ice melt on the continent is at its highest point in at least 1,000 years and has been particularly intense over the past half century. A decades-long study published earlier this year found that conditions are worsening for the already beleaguered penguins, with the mix of extreme weather and warmer temperatures killing more and more birds. Adelie penguins in particular are having a harder time feeding, as climate change causes more large icebergs to break free of the Antarctic ice shelves.
Air New Zealand has been sponsoring research efforts in Antarctica since 2012.
"We're a very environmentally conscious airline, so we're looking to do what we can to support the environment," an airline representative told HuffPost. "We're conscious of the airline sort of being quite ... a contributor to carbon emissions, so we're just looking to try and offset that by supporting scientific work in both Antarctic and New Zealand regions."
Armstrong said the scientists at Scott Base are passionate about the importance of their research. But the battle is still ongoing to rally global support behind efforts to deal with climate change, despite an overwhelming scientific consensus that humans are to blame.
"As far as their [the scientists'] outlook on climate change, I think fear and worry sort of went out the window a decade ago," Armstrong said. "It's been a scientific fact that all this is going on, but it hasn't been fully accepted and taken on board by so many people around the globe that it's now a frustration, I think, that they have this objective research data that they have to fight to be heard."
Armstrong argued that photographs, like those taken by Edwards, play a valuable role in conveying "what natural wonders there are in the world and our need to protect them."
"It's not through complaining or ... saying how bad things are going to be, but just saying, 'Look at how beautiful this is.' There should be a natural response to try and preserve and protect it," Armstrong said.
"We have to remember that humans are a part of an ecosystem and we have an influence on that ecosystem, but it also feeds into our well-being. If we disrupt that through damage to the environment, what does that mean for us as a species down the line."
PHOTO GALLERY
Antarctica Expedition