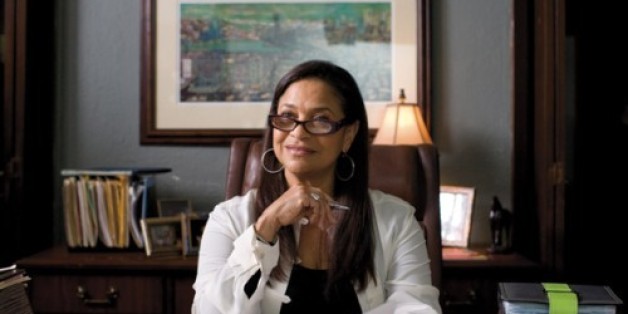 Debbie Allen remembers the segregated water fountains of the 1960s. Growing up in Texas, life was so difficult, she and her family crossed the border into Mexico, so they could live without the binds of American racism. Things come a long way since then, of course, but Allen knows that the tired old question of diversity won't get an answer, until we all become one big old melting pot of a race (read: look exactly like Rashida Jones). Huff Post TV talked to Allen about the way she's seen things change from her role as Lydia Grant on "Fame" in the early 1980s to work with Shonda Rhimes on "Grey's Anatomy" and "Scandal," and what we can expect in terms of (very literal) post-racialism.
In your time working in television, from "Fame" to "Grey's Anatomy" and now "Scandal," I'm wondering how you've seen things change, specifically for women of color.
Well, that's a very interesting question. I remember as a child watching television and the images of women on television. I remember seeing Leslie Uggams when I was a little bitty girl ... and Diahann Carroll as Julia, but in between them there was very little ... It took time. By the time Diahann Carroll was playing Claudine, Diana Ross was playing "Lady Sings The Blues," you know, these kinds of films were not always in the making when I was a kid. But I think the differences come from a new ownership of the image black women. When I was doing "A Different World," we had black women writing their characters. You know, when Phylicia [Rashad, her sister] was on "The Cosby Show," there were black women writers on the set of that show.
That's very important. Not just seeing women of color on the screen, but having women of color telling their stories.
I think the difference now is that we have powerful women like Shonda Rhimes, pushing that envelope in a way that it didn't quite get pushed before. [For example], the part that Kerry Washington is playing, Olivia Pope, her portrayal as well as her mother, Maya Pope. You know, those two black women, who are so amazingly different and related ... but I think that diversity is an old, old conversation, that unfortunately an old, old conversation.
What do you think it will take for us to stop talking about diversity?
At the end of the day, I think, as time goes on, we will see the melting pot really become a melting pot, where there's a fusion of all of our races and cultures, and there will be very narrow differences that you can make. You know, when you go to Brazil, you see black people with blonde hair and blue eyes. You know, you see white people with dark hair. You see a mixture, and that's kind of where the world is headed right now. You can look at the statistics in America, look at the political landscape in America, look at the forecast, and it will tell you that the balance of ethnicity is changing. It will no longer in another fifty years be a white dominated society. It will be a mixture, because that's where the world is going. Everybody needs to get on that train and stop it already.
So, you think a melting pot race is the only way we'll be able to finish the conversation?
It is what needs to happen. Everybody needs to get on that train and stop it already. It won't last, it won't last much longer. Because, you know what? Love overcomes all of that. When a man loves a woman, whether she's Asian and he's black, or she's Jewish and he's Native American, that's what's going to rule. Love is going to rule and that's something that we can all look forward to.
In the meantime, I know you've dealt with a lot of the current lack of diversity through dance. Tell me about that.
Dance has always been important to me. Even in the middle of doing "Scandal," doing "Grey's Anatomy," I am back at the dance academy every day, every weekend I am there, trying to help uplift and change lives with the art of dance. I know it did it for me as a kid. It helped me survive the racial divide of the '60s and civil rights. Dance was my angel, it was my foundation.
How did you get into dance in the first place?
Oh, I was dancing already when I was three. I remember wanting to play Shirley Temple and be in all of those films when I was little. But then, when I grew up and trained in ballet, they wouldn't accept me, because it was segregated. Everything was segregated. I remember the white only fountains, I remember all of that. So, my mother pack us up and moved to Mexico, and when I was in Mexico with my sister Phylicia, my God, we could go to restaurants, we could go to movies and I could go to dance class. And it was very telling that the world was a very large place and people were very different, even just across a border. Texas [basically] was Mexico! This was, like, amazing, and then we when we can back and things changed, I finally got into the dance school, so dance really helped me get through that whole difficult period.
And, if I'm not mistaken, you met Shonda Rhimes through the dance academy as well? What is it like working with her now?
Shonda Rhimes has become the quintessential genius of drama on network television. It's gonna be interesting to see where she goes ... I actually first met her at my dance studio, and it took a little after that, maybe a year or so later, I got an offer to direct "Grey's Anatomy," and she really liked my work, and the actors really responded well to me ... then she made me an actor on the show [in the role of] Dr. Catherine Avery. Then she called me in to direct "Scandal," and Shonda tries to keep very creative people around her, because she is so creative. She has the right logo. You know her logo is a roller coaster? Shonda is in Shonda-land. Well, honey it's the right one, because when you get on that ride, it goes up, it goes down, it goes around, and you just don't want to get off. That's how it is working with her, on any of her shows she's created.
Debbie Allen is currently working with the T2 Dance Crew, a national education and wellness program, which she launched in partnership with Janssen Pharmaceuticals. The program "aims to help millions of people with Type 2 diabetes tap into the natural joy of dance and add movement to their comprehensive diabetes management approach." You can check out the initiative via the Diabetic Connect website.
BEFORE YOU GO
PHOTO GALLERY
Celebrity News & Photos