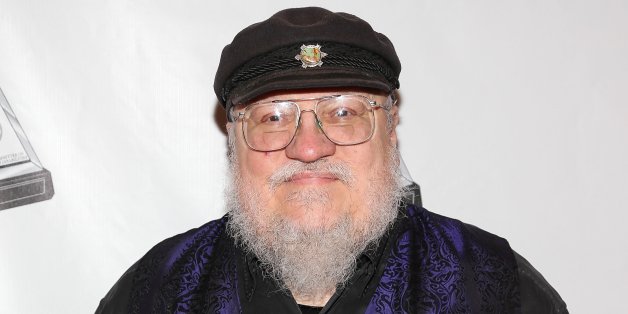 The only thing more fascinating than "Game of Thrones" is the man behind the "Song of Fire and Ice" book series, which inspired the hit HBO show.
George R.R. Martin sat down with Rolling Stone recently to talk about all things "GoT" -- for 10 hours, mind you -- and the historical inspirations behind many of the characters and events in the series. He discussed his opposition to the Vietnam War during his youth, his trip to England that inspired the Wall and the vision that first led him to writing the fantasy series.
The interview is a must-read for any diehard "Game of Thrones" fan, but below are the highlights, and one surprising reveal -- one of the best parts of the series was almost never included.
There almost weren't dragons in the books:
"The main question was the dragons: Do I include dragons? I knew I wanted to have the Targaryens have their symbol be the dragons; the Lannisters have the lions, the Starks have the wolves. Should these things be literal here? Should the Targaryens actually have dragons? I was discussing this with a friend, writer Phyllis Eisenstein – I dedicated the third book to her -– and she said, 'George, it's a fantasy –- you've got to put in the dragons.' She convinced me, and it was the right decision. Now that I'm deep into it, I can't imagine the book without the dragons."
The historical inspiration for the Wall:
"I can trace back the inspiration for that to 1981. I was in England visiting a friend, and as we approached the border of England and Scotland, we stopped to see Hadrian's Wall. I stood up there and I tried to imagine what it was like to be a Roman legionary, standing on this wall, looking at these distant hills. It was a very profound feeling. But when you write fantasy, everything is bigger and more colorful, so I took the Wall and made it three times as long and 700 feet high, and made it out of ice."
He has a bit of a quibble with J.R.R. Tolkien:
"Ruling is hard. This was maybe my answer to Tolkien, whom, as much as I admire him, I do quibble with. 'Lord of the Rings' had a very medieval philosophy: that if the king was a good man, the land would prosper. We look at real history and it's not that simple. Tolkien can say that Aragorn became king and reigned for a hundred years, and he was wise and good. But Tolkien doesn't ask the question: What was Aragorn's tax policy? Did he maintain a standing army? What did he do in times of flood and famine? In real life, real-life kings had real-life problems to deal with. Just being a good guy was not the answer. I've tried to get at some of these in my books. My people who are trying to rule don't have an easy time of it. Just having good intentions doesn't make you a wise king."
He had a really hard time writing the Red Wedding:
"The Red Wedding was tremendously hard to write. I skipped over it until I finished the entirety of 'A Storm of Swords,' then I went back and forced myself to write that chapter. I loved those characters too much. But I knew it had to be done. The TV Red Wedding is even worse than the book, of course, because ['GoT' creators David Benioff and D.B. Weiss] turned it up to 11 by bringing in Talisa, pregnant with Robb's child, none of which happened in the book. So we get a pregnant woman stabbed repeatedly in the belly."
He believes all people deserve a shot a redemption:
"One of the things I wanted to explore with Jaime, and with so many of the characters, is the whole issue of redemption. When can we be redeemed? Is redemption even possible? I don't have an answer. But when do we forgive people? You see it all around in our society, in constant debates. Should we forgive Michael Vick? I have friends who are dog-lovers who will never forgive Michael Vick. Michael Vick has served years in prison; he's apologized. Has he apologized sufficiently? Woody Allen: Is Woody Allen someone that we should laud, or someone that we should despise? Or Roman Polanski, Paula Deen. Our society is full of people who have fallen in one way or another, and what do we do with these people? How many good acts make up for a bad act? ... I want there to be a possibility of redemption for us, because we all do terrible things. We should be able to be forgiven. Because if there is no possibility of redemption, what's the answer then?"
"Game of Thrones" airs on Sundays at 9 p.m. EDT on HBO.
BEFORE YOU GO
PHOTO GALLERY
"Game Of Thrones"