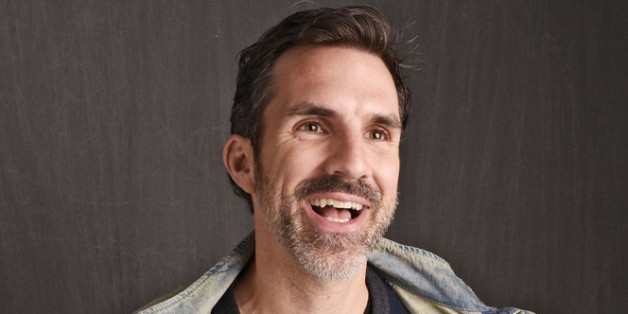 Paul Schneider spent this past Saturday at a New York City hotel participating in what seemed like a series of wide-ranging interviews (read one example here). The 38-year-old actor, best known for his work in David Gordon Green's early movies, the first two seasons of "Parks and Recreation" and "The Assassination of Jesse James by the Coward Robert Ford," was in Manhattan to support the 2014 Tribeca Film Festival premiere "Goodbye to All That," but he didn't have to travel far to get there. Schneider lives in Brooklyn, and his interviews were slightly delayed because he ran into traffic on his way to the city. The slow down was exacerbated further, because Schneider just loves to talk.
"My tendency is to make it a conversation, and then I'll say shit where I'll be like, 'I shouldn't have said that!'" Schneider said of doing press. "But, also, kind of, who gives a fuck? Do I think in the media universe something I have said is going to have real staying power? If so, I'd have to think very loftily about myself."
Schneider plays the lead in "Goodbye to All That," Otto Wall, a recently divorced dad who reenters the dating world after a decade away and faces the expected amount of awkwardness. The comedy-drama was written and directed by Angus McLachlan, a playwright and actor who wrote the movie "Junebug."
"The great thing about Paul that I've always liked about his work is that he's a thinking actor. He's always got something going on even if he's in the background," MacLachlan said. "I love that quality."
HuffPost Entertainment spoke to Schneider about his new movie, his take on fame and a whole bunch of other stuff. An edited transcript of our conversation is below.
You've been doing a lot of these interviews. Do you like it?
It's hard. Being interviewed is a moment that's sort of begs for you to take yourself seriously. Any time I'm in that world, my instinct is like, "What the fuck?"
I'm sure that's a good attitude to have, right?
Maybe. I know that my life is a lot more normal than people think it is.
Do you live in Los Angeles?
I live in Brooklyn.
Do people recognize you?
Occasionally. That's a real head trip.
But I feel like you'd have cool fans, at least judging from the stuff that's on your resume.
Yeah, maybe that's helpful. If you do a bunch of shit that you don't like, and you're doing it for money, you're more than likely going to be accosted by folks who you do not get along with or who don't share the same interests as you. Maybe you're doing yourself a service to be more discerning. My overhead is very low. I don't have to do things for money, and I don't think other people do, but -- and emphasize this in the article -- what do I know? People have their own motivations.
I read in an interview where you talked about being picky. When did you realize that you could be picky with your roles?
There's not an easy answer to that question, because -- and I'm not being obtuse -- the assumption that I pick things is the wrong assumption. I'm not living in a world where people offer me things. You probably know this, but the world of "offers" in acting and the world of "auditions" in acting is really different. Sometimes you can go back and forth -- even big-time box office stars are still auditioning for Terrence Malick. Because they're hungry for credibility. No, no: Because he's Terrence Malick! And they're great students of film!
Of course, of course.
But I'm really working from a real disadvantage for two reasons. One is my fault, and one isn't. The latter is that there are not a ton of scripts out there that are going to get made. Period.
Then, of the ones that are out there, how many are good?
That's my fault. Because I'm more affected by "The Double Life of Veronique" by Krzysztof Kieslowski or "The Apartment" by Billy Wilder, or "Close-Up" by Abbas Kiarostami. So, if those are the kind of films you want to make, good luck. Then, further, the good films I want to be involved with, it's not just like I decide and then I'm in them. I still have to audition and try as hard as I can to get in there. I've made some films that I think are good, and I've made some films that I think are not good. The best you can do is get involved with something that you think is going to be good. That might be because I'd like to do something I've never done before, or because the people who are making this are nice people. You want to try for a no-assholes policy.
That's probably hard.
It's difficult because I'm not in HR.
You're not doing the hiring.
No. So, the picky thing is tough. Because I don't work very much.
I feel like you do. You've piled up a lot of roles in the last decade.
But I mean, what does a year look like for me? I might be working four months out of the year. My brain is too hungry and rapacious and fuel-starved. I'm really working against myself because I don't want my face to be on an Apple TV tile on a shitty movie that I knew was going to be shitty at the beginning. I'm constantly needing stuff to do during those months that I'm not working.
What do you do when you're not acting?
I watch European football a lot. I spent a month in Africa. I worked on something called Biosphere Expeditions. You don't want to know this, but we were in Namibia working on a leopard, cheetah and elephant expedition, where they are trying to figure out a way for these animals to co-exist with farmers in Namibia. So the farmers still make their money and do what they need to do to survive, and the animals don't get killed in the process.
That's amazing. What else?
I'm writing a few things with friends. And you'd be surprised: Answering emails is a full-time job.
Did you know right away that "Goodbye To All That" was a good one?
I knew right away that the character was going to be fun to play, and I would have something to impart. There's a thing that happens when I read a script, and I don't know the reasons why it works like this, but this is how it works: I can read a script that may be amazing, and the character that I'm meant to play, I read his part and nothing comes to me. It might be great, but I just have no ideas. I don't know how I would play that guy better than anyone else. Then I might read a different script, and I read the character and ideas are starting to generate and they're coming forth and I have a take on it. I know specifically how I would do things. This was one of those, and it's fun to play a character who is flawed, clumsy, oblivious and has sex scenes with gorgeous women. Also, the thrust of the movie -- the reasons why Angus wanted to make it -- were very interesting to me. His touchstones and his benchmarks from whence this idea was born were interesting. Some of the late '70s and early '80s family dramas: "Kramer vs. Kramer" or "Shoot the Moon" or "An Unmarried Woman" or -- maybe on the darker side -- "Ordinary People." He wanted to make it in the vein of those movies. Obviously there is a comedy element in this movie, but I believed in -- and I agreed with -- why he wanted to add this film to the library of films in the world.
You're the lead here. Is being a lead actor something you want to do more of in the future?
It's very difficult to sit in a theater to watch myself.
Maybe for you, but people like seeing you!
I don't know. Maybe!
Every person I talked to about this movie was excited that you were in a lead role.
I mean, that's really nice, but I think they need to up their standards. That's pretty low-hanging fruit. I don't mean to sound generic, but if the part is good then that is what's good. If I was dead-set about playing leading men or main characters, then I'd also be a person who's dead-set about making Paul Schneider a fucking industry. I'm not interested in making myself an industry. I'm not interested in making myself a celebrity or buying into a kind of self-obsessed world. I'm already in it anyway, but is it not worth something to try and fight against it?
Did you have any concerns about Angus being a first-time filmmaker?
You know how it goes: It's all about the person. I've worked with very experienced directors on very difficult shoots, for one reason or another. I've worked with first-time directors with relative ease. The fact that Angus has been an actor and had directed on stage made it much easier. A lot of the job he had to accomplish was accomplished once his cast knew he had spent time on stage. We knew he had been on stage without his clothes on, doing sex scenes. It's helpful looking behind the camera and seeing someone who you know had experience revealing themselves and laying bare their shit. At the end of the day, isn't acting -- and all of life, really -- trying to work out whatever it is that happened or didn't happen between you and your dad from 8 to 17? I don't respect actors who ... aw, fuck it, I'm so negative and ridiculous. I need to be less judgmental.
Ha, okay.
It was just helpful to know that Angus had been there, and you feel an immediate comfort, whether it was his first time or not.
Do you ever come across "Elizabethtown" or an episode of "Parks and Recreation" on cable and just watch?
I don't have cable.
Okay, well, on Apple TV: "Elizabethtown" is on Netflix, and I've watched it a few times recently. Would you just put it on at all?
I'm always surprised when I do see something like that, but no, I don't watch it. There's so much good stuff out there.
Does it hurt when a movie gets panned like "Elizabethtown"?
Well, I didn't make it. You know, making movies is just really hard. I wrote and directed a film [2008's "Pretty Bird"], and it was really fucking hard. I don't mind if something gets panned. Obviously you want your team to be lauded and you want to have a success. But if I'm working on something and I'm showing up on time and I know my lines and I'm not a dick and I'm a team member and a co-worker with grips and production assistants, then I feel like, hey, I did my best. I'm not the editor or the director. All I can say is that it's hard, and you have to do your best. It's not up to us!
You just work there.
In many ways, it's not up to the director either. There are forces that are conspiring against you to make a good film.
Does it surprise you when the movies actually turn out good?
Absolutely. That's why it's so exciting to find one. I saw "The Piano" when I was 17. I had never thought about going to film school at all, and that singular experience of my parents and I watching "The Piano" at Hollywood Cinemas in South Asheville, N.C. [made me want to].
Why?
I had just not seen a movie at that point in my life that folded artistry and commercial viability into as beautiful a package as Jane Campion did. Obviously you have to pay your investors back. That's the hard reality of working in an industry where the capital of investment is so great that one individual can't make it alone. A painting, you can get a canvas and buy paint. But that one: A movie was made in New Zealand that was commercially viable enough to make it all the way to South Asheville.
That's crazy.
Even more trippy, 12 years later, Jane Campion calls me up and we work together on "Bright Star," because she saw "The Assassination of Jesses James."
Did you tell her how much "The Piano" meant to you?
Not at the time. When I first got on the phone with her, I actually had a poster for "The Piano" in my kitchen, but I thought it would be a real kiss-ass thing to mention. When I did show up in England, though, I had brought my ticket stub from 1993. I said, "I want to show you how much you affected me."
There was a big revival last year for "The Assassination of Jesse James by the Coward Robert Ford." Were you aware of that?
I love that movie. I'm proud of it. I'm proud of what we all did. The cast was just great, and it was a really spectacular experience. Roger Deakins shot the hell out of that. I didn't actually know about the revival. It sucks, because more than likely when it was at the Museum of the Moving Image in Queens, I was probably in Greenpoint watching "America's Funniest Home Videos."
You could have rolled over.
I totally could have rolled over! If you ever hear that again, let me know.
Are you on social media at all?
No. It's like, I need to finish a fucking book one day. Why would I want to spend my time there? I'm not on Facebook. I'm on Instagram, and I spend a certain amount of time taking pictures of my dog and melding them with pictures of animals in Africa. I have a series called Leroy vs. Africa. I have my 80 followers and I follow my 80 people. I just want to have a good relationship with my brain, and not spend a lot of time on me solely.
That's seems like a good way to live.
When "Bright Star" played at the fine arts theater in Asheville, where I'm from, I went and spoke before and after the film. It was a great honor. I was flattered. My folks were there. I drove myself there. I parked the car. As I was walking up the street, on the marquee it read, "'Bright Star' With Paul Schneider In Person Tonight." I thought to myself, I know I should like this. I know this should make me happy and proud. I know that the world tells me that this should feel good, and ... I'm not that guy. Now, I was also very happy to show up and talk to people about the film. But just being alone on the street, staring at my name in lights? I would much rather see "With Iron Maiden In Person." I'd be like, "Holy balls, that makes me happy."
BEFORE YOU GO
PHOTO GALLERY
Tribeca Film Festival 2014