Disney is thinking of making the "It's A Small World" ride into a movie, because the song wasn't annoying enough. This is THE MORNING EMAIL for Wednesday, April 23, 2014.
The Scuttlebutt
Sonia Sotomayor's blistering dissent after the Supreme Court upheld Michigan's affirmative action ban
Stephen Colbert swung by the "Late Show" last night, and it looks like Dave Letterman likes his successor
Drew Barrymore's baby girl's unorthodox name
TOP STORIES
SUPREME COURT UPHOLDS MICHIGAN'S AFFIRMATIVE ACTION BAN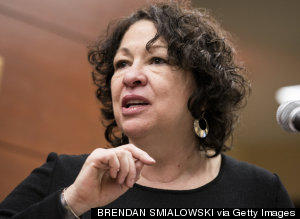 "The Supreme Court upheld Michigan's ban on affirmative action Tuesday, but not without a blistering dissent from Justice Sonia Sotomayor. Sotomayor said the decision infringed upon groups' rights by allowing Michigan voters to change 'the basic rules of the political process ... in a manner that uniquely disadvantaged racial minorities.'" Read her full dissent -- it's well worth it. This New York Times graphic explains how affirmative action has influenced minority admissions. And here's other ways colleges are looking to increase diversity in their applicant pools in a post-affirmative action world. [HuffPost]
U.S. SENDING TROOPS TO EASTERN EUROPE
"Hundreds of U.S. troops are headed for maneuvers in Eastern Europe through year's end, the Pentagon announced, new deployments intended to reassure allies on Russia's borders as violence took a sinister turn Tuesday in embattled Ukraine." This follows the announcement that Ukraine has ended its Easter truce and relaunched search operations for Russian separatist groups. Russia's Foreign Minister has said any attacks on Russians in Ukraine would be considered an attack on Russia. [WSJ]
FALL OF AMERICA'S MIDDLE CLASS
"The American middle class, long the most affluent in the world, has lost that distinction. While the wealthiest Americans are outpacing many of their global peers, a New York Times analysis shows that across the lower- and middle-income tiers, citizens of other advanced countries have received considerably larger raises over the last three decades." The Atlantic explains how Canada took that distinction from us. [NYT]
STATESIDE: NRA Shift on Domestic Violence
The NRA has been quietly dropping its opposition to gun control bills aimed at domestic violence perpetrators. The NYPD asked people to share photos with police officers but things didn't really go as planned. Current gun checks are missing millions of fugitives. USA Today released its list of the top U.S. high schools. The Navy is going to try to do award Air Force One contracts right this time. And here are graphics describing how Gulf species are doing four years after the catastrophic BP spill.
In spidercat news, here's some cats who can climb walls.
INTERNATIONAL INTRIGUE: Base Jump Insanity

Divers have not found air pockets in the South Korean ferry, eliminating almost any chance of finding survivors. A new study finds one-in-three Canadians suffered some kind of child abuse. Afraid of heights? Don't watch this video of a base jump from the tallest building in the world. After last week's deadly avalanche, the sherpas of Mount Everest have gone on strike. Sheet metal with rivets washed up on the Western coast of Australia, making it an "object of interest" in the ongoing search for missing MH370. And forget polar vortices: this year's March was the fourth-warmest on record.
In adorable dog news, here's a bunch of vines that make us really, reallywant a puppy.
BUY! SELL! BUY! Cashing in on Pope Francis
With that smile, Pope Francis can be quite the money-maker for the religious presses. Pharmaceutical companies are moving to specialize after years of working to expand and diversify their portfolios. David Einhorn is shorting tech stocks, as his hedge fund believes we are experiencing a second tech bubble. And federal judges are considering a stricter definition of what constitutes insider trading.
In playa news, this kid took three homecoming dates to Taco Bell. Real spender.
SCOUTING REPORT: Pujols Hits Number 500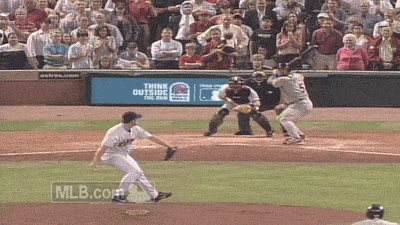 Drake lint-rolled his pants courtside, because of course. Ten years on, Pat Tillman's death torments his comrades. Jaguars linebacker Russell Allen speaks out about the onfield stroke that ended his career. The pay lawsuit by Buffalo Bills cheerleaders also includes details about "jiggle tests" and other horrors. And ex-Cardinal Albert Pujols just made it into the 500 club. Even though we'll always be bitter that he left STL, we're glad to hear he's doing more than ok.
In workout news, here's an insect that puts your routine to shame.
CULTURE CATCH-UP: Peeps Marshmallow Movie Dreams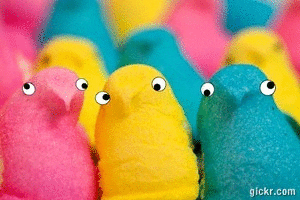 Want to sound good at your next cocktail party? Work these Nabokovian words into your conversation. "Arrested Development" creator Mitch Hurwitz is working his magic again for Netflix after signing a multi-year deal for a new series. Dave Letterman yucked it up with his sucessor, Stephen Colbert, last night on the "Late Show." Jessica Chastain may play Marilyn Monroe. And in bizarre movie ideas, Disney is in talks to turn the "It's a Small World" ride into a movie and Peeps are making the transition to the big screen (yes, the Easter candy reject got a movie before Jelly Belly. We're not happy about it).
In chimpanzee news, here's a monkey showing off its pearly whites.
LIVIN': Are You T'Wired?
The best DIY office supply lifehacks involve some cups, binder clips and paper clips. This graphic lays out the best way to beat stress and achieve happiness. Now that spring has finally sprung, we love these 23 skirts that are all under $50. Want to make better bacon? We've got you covered. Constantly online and tired? You may be t'wired (it's pretty much our perpetual state of being at this point).
In John Hughes news, here's a quiz testing your 80s movies prowess.
OTHER PEOPLE'S BUSINESS: Baby Number Two for Drew!


Kimye asked James Franco and Seth Rogen to perform their "Bound 2" spoof the night before their wedding. Exes Angelina Jolie and Billy Bob Thorton still keep in touch. Kate and Prince William learned how to DJ today. Drew Barrymore welcomed her second child yesterday, and we love the baby girl's unique name. John Legend's baby doppelganger has all of us doing a double take. And Laura Prepon shot down rumors that she was dating Tom Cruise. Glad Donna has some sense.
In dog lover news, here's a hotel built in the shape of beagle.
TWITTERATI
@arzE: one doesn't need sunglasses on a gloomy day and yet it is on a gloomy day that one must look one's flyest
@ochocinco: My truth is ugly...
@DaneCook: I hate when a violent protest suddenly turns peaceful.
@ConanOBrien: Let¹s face it, anyone named Captain America should be overweight and have a porn addiction.
@TheAcademy: Rare footage of Marilyn Monroe in 1951 back when the Oscars were a radio-only affair. (This was shot for newsreels) http://youtu.be/n2V-u9pBjQg
ONE MORE THING
Everybody poops: here's what yours means.
Got something to add? Send tips/quips/quotes/stories/photos/events/scoops to Lauren Weber (lauren.weber@huffingtonpost.com). Follow us on Twitter (@LaurenWeberHP). Does somebody keep forwarding you this newsletter? Get your own copy. It's free! Sign up here.