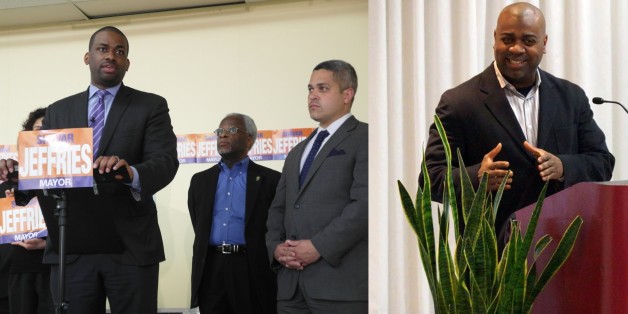 NEWARK, N.J. -- "They're trying to make it like the street fight between Cory Booker and Sharpe James," says Ras Baraka, candidate for mayor of New Jersey's largest city, referring to election opponent Shavar Jeffries. "I'm not Sharpe James and he's definitely not Cory Booker."
If the May 13 mayoral election is not a rerun of the the infamous "street fight" between Booker and James, it nevertheless has produced plenty of the Brick City's trademark electoral fireworks -- including arson.
Baraka says the era of "cult worship" in Newark is over, a reference to the popular Booker, who left the mayor's office to serve as a U.S. senator in October. Jeffries calls Baraka endorser Sharpe James, the scandal-tainted mayor Booker toppled in 2006, one of a "series of candidates who represent Newark's past."
The sharpest contrast in how the two Democrats envision the future may be in their views on Newark's public education system. Jeffries is a charter school founder who favors school "choice," much as Booker did. Baraka is a former public high school principal who adamantly opposes the idea of "competition."
Jeffries, a 39-year-old civil rights lawyer, has a compelling biography. Born in Newark, his mother was murdered when he was 10. His father, he says, was never around, so it fell to his grandmother to raise him. He got a lucky break with a scholarship to Seton Hall Preparatory School in affluent West Orange.
"Nobody in my family was going away to college. Many weren't even getting out of high school," Jeffries recalls. "I took the bus for about 90 minutes every day."
Jeffries went on to amass a stellar resume: Duke, Columbia Law, and a federal appellate court clerkship. Along the way, he says, he never forgot his background. Jeffries' way of giving back was to found the first TEAM Academy Charter School in Newark in 2002. It is an affiliate of the national Knowledge is Power Program, or KIPP, charter school network.
"When I jumped into it, it wasn't about charter versus district, any of that," he recalls. "We just wanted to educate babies. And there was no drama."
Now, more than a decade later, charter schools serve about 9,600 of Newark's 44,000 students, and there seems nothing but drama.
The district superintendent, Gov. Chris Christie appointee Cami Anderson, recently announced plans to close or consolidate a half-dozen schools, placing some under the management of charter operators. She said she hopes to lay off up to 1,000 of the district's 3,800 teachers using merit evaluations instead of teacher seniority.
Jeffries, who in the past had cordial relations with Anderson, is a supporter of charter schools. "I believe competition forces every provider to make sure they're focusing on children and not politics," he says. "Everybody has options except for poor people."
But Anderson may have overreached with her latest plans. Critics are up in arms, and Jeffries says Anderson has gone too far too fast.
Jeffries says that if he's elected, he'd be willing to let Anderson keep her job "if she's willing to fundamentally reset how she engages our community and fall under my office as the mayor and our community more broadly."
"But if she can't do that," he adds, "then clearly we need a new superintendent."
Baraka, meanwhile, speaks of Anderson's time in Newark in the past tense. (She is state-appointed, and the winner of the mayoral election would have to persuade Christie to dismiss her.)
"I'm hoping that she won't be around before I'm elected," Baraka says. "Her plan is incredibly radical."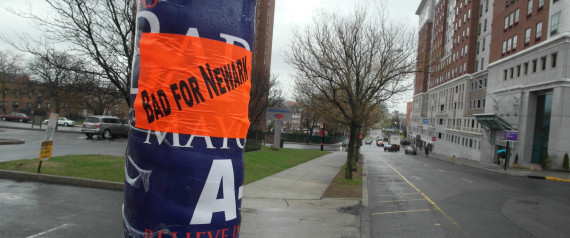 A vandalized Ras Baraka campaign sign. Supporters on both sides have been accused of dirty tricks.
Baraka, 44, is the son of black nationalist poet Amiri Baraka. A city councilor, he was also the principal of Newark's Central High School until he took a leave of absence to run.
Where Jeffries is backed by more than $1.3 million from a super PAC supported by financial professionals, Baraka has garnered the support of the Newark Teachers Union and $159,000 from a union 501(c)4 group.
"When you find out who is running these organizations, you'll see that they are either from South Jersey organizations -- big political bosses like George Norcross -- or they are from Wall Street," Baraka alleges.
"I know a lot of people who are transacting are supporting him," Jeffries says of Baraka.
Where Jeffries has attracted the endorsement of New York Times columnist David Brooks, Baraka has former mayor Sharpe James, who was convicted on federal fraud charges in 2008.
"There was no money that exchanged hands, no proof of malfeasance, none of that stuff, really. If you go back to the court transcript, you'll see some funny stuff was going on," Baraka says. "Really what they did was make him a martyr."
Baraka's larger convictions about education, meanwhile, could not be farther from Jeffries'.
"This idea that the marketplace is going to improve equation is false, it doesn't work," Baraka says. "You can't apply market philosophies to education. It doesn't work, it hasn't worked, so you have to do something in the schools to improve them."
Baraka says Anderson has spent too much time focused on expanding charter schools and too little time on improving district schools that already exist. While Jeffries sees his time at prep school as a selling point, Baraka has a different take.
"HIs grandmother put him in schools around the city of Newark," Baraka says. That, he adds, is "the foundation of why he doesn't have any allegiance to Newark Public Schools at all."
Jeffries previously served as president of the Newark Public Schools Advisory Board.
Ultimately, one of the two men will have a bully pulpit to weigh in on how the city's schools are run -- the same one Cory Booker used to attract a $100 million donation from Facebook founder Mark Zuckerberg. (Booker has not endorsed anyone in the race and a spokesperson did not respond to a request for comment.) In an off-year election, voters next month may make decisions based as much on style as on policy.
"Yeah I'm an activist, I'm a community activist. I'm also the principal of a school," Baraka says. "The president of the United States was accused of being an activist."
"We have to build these bridges and partnerships with a diverse range of folks," says Jeffries. "If by contrast your mayor has been burning bridges of these sorts for 20 years, marching against the governor, marching against white people, marching against Wall Street, then you're going to have a much more difficult time building the very partnerships we need to grow the city."
CORRECTION: This article has been edited to say that Baraka has received support from a labor union 501(c)4 group, not a union super PAC.
BEFORE YOU GO
PHOTO GALLERY
New Senators Of The 113th Congress