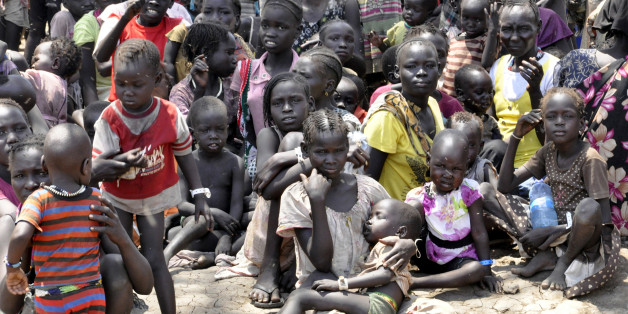 One little girl puts a name and a face to the struggles of so many in South Sudan.
Nyakhat Pal, 3, walked for four hours with her elderly and blind father, Pal Dhul, in order to reach a relief station in South Sudan, a UNICEF communication specialist reported. Nyakhat acts as her father's eyes, guiding him with a stick, since her older brothers went off to war and her mother recently left to find one of them.
Young Nyakhat and her father were among the 4,000 people who showed up at the village of Pagak to wait in line for aid and supplies brought by UNICEF and World Food Program (WFP).
"We heard there would be food here, and vaccines, and other supplies we may need for the next months. We needed to come," Dhul told UNICEF.
Nyakhat, 3, walked for 4 hours guiding her blind father to get help in #SouthSudan http://t.co/b5RFAAFpZL pic.twitter.com/mN4B2PmMf7

— UNICEF (@UNICEF) April 23, 2014
Fighting broke out in South Sudan in December and has since escalated, with violence along ethnic and political lines leading to a massacre last week, the Associated Press reported. Hundreds of people were killed in Bentiu, the capital of South Sudan's Unity state, leaving "piles and piles" of bodies, according to U.N. aid official Toby Lanzer.
Thousands of people have been killed, and more than 1 million left their homes since the fighting began, according to Al Jazeera. Now, the U.N. warns that a famine may be imminent for the war-torn country, affecting up to 1 million people who already face malnutrition, violence and displacement.
With the increasing scarcity of food, aid organizations like WFP and UNICEF are crucial. For Nyakhat and her father, relief stations like the one in Pagak are worth the long trip on foot from their village. Nyakhat received vaccinations for measles and polio, and she and her father got help from volunteers to carry their food rations home.
BEFORE YOU GO
PHOTO GALLERY
Violence Rocks South Sudan