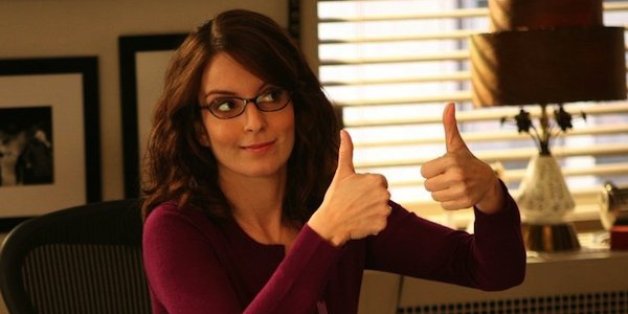 We've had some bad news this week.
First, there was Courteney Cox laughing it up while callously crushing our dreams of a "Friends" reunion on David Letterman. Then, those rumors of another "Will and Grace" team-up had us ready to pull the vodka from our purse and throw a party a la Karen Walker-style until network reps from NBC came in like a couple of campus police officers, telling us to turn the music down and issuing some underage drinking fines for fun.
We'd finally lost all hope of ever seeing a great TV show stage a surprise reunion. It would take a miracle, an act of God, to get us to believe again.
It would take ... Tina Fey.
The comedian sat down with Entertainment Weekly to talk about the ending of "30 Rock" -- which wrapped up its final season last year -- and hinted that things might not be over for socially awkward Liz Lemon and her equally quirky crew.
"We didn't actually murder anyone," Fey said "so they could come back."
Okay, so it's not the strongest suggestion for a reunion we've ever heard, but we'll take it!
Fey did admit she was happy with how the characters were able to sign off with each getting their own happy ending when the screen finally turned to black. "One of the things we learned from that was that it's okay to give your characters an opportunity to actually say goodbye to each other in that body of that episode," Fey said. "You don't have to worry if that's cheesy or whatever."
Liz Lemon might be comfortable being a stay-at-home mom, working on her night-cheese while watching bad reality shows, but everyone knows that won't keep her happy for long. And when Fey is ready to pick up the torch again, we'll be here waiting.
BEFORE YOU GO
PHOTO GALLERY
30 Rock Musical Moments