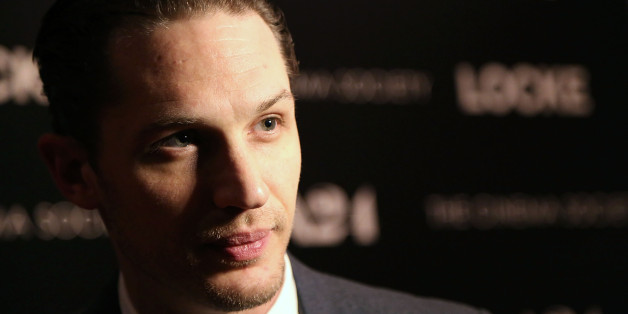 He's Bane, he's Bronson, he's Tommy Conlon -- he's Tom Hardy.
Many know the English actor as Batman's masked, muscled villain or for insisting that we dream a little bigger (darling), but there's more to Hardy than the major Hollywood roles that have brought him fame and magazine covers. He's one of the most versatile actors of this generation, and with his latest film, which has been described as a play and an experimental workshop, he truly proves the depths of his acting abilities.
From writer/director Steven Knight ("Eastern Promises"), "Locke" is a one-man show, a road movie, a live visual radio play, and an ordinary drama. For 85 minutes, Hardy's character, Welshman Ivan Locke, is the only person on screen as he drives from Birmingham, England, to London in order to rectify a past mistake, all while juggling phone calls with various people, attempting to assuage bad situations as they worsen. Aside from Hardy's outstanding performance, the most fascinating part of "Locke" is the way it was filmed: sequentially, completely inside a moving car, over eight nights, and with nearby actors phoning in live calls.
HuffPost Entertainment sat down with Hardy and Knight at the Waldorf Astoria in New York City to talk about the unconventional making of the film, the man who inspired Ivan Locke and a surprising fact about him Hardy later discovered.
You've both described the film as play and a radio play. Where did the idea for this come from?
Steven Knight: The original idea was wanting to go back to the basics of making something on screen. We shot of test footage for the Alexa camera from moving vehicles at night and I thought it was quite hypnotic. I wondered if that could be a theater, that moving image, and then put an actor in it and shoot a play basically. Make it so it's performed like a play and shoot the whole thing beginning to end.
You shot the film in eight nights, but how many times a night did you shoot the entire script?
Knight: Tried to do two, but sometimes it didn't work out that way. At the end of it was 16 versions [of the whole script].
What was it like to perform it more like a play than a traditional film?
Tom Hardy: It definitely didn't feel like work for me, it was good fun. When I first met Steve for this particular job, it was at a concept stage. So when the script came in it was a work in progress and it continued to be a work in progress throughout shooting it. In that way it was like a contemporary theater piece. It was a moveable object in many ways because it was an exercise as opposed to a script in a film in a conventional sense. It was a much more organic process. It was all one package as opposed to "Here's the script, turn up on the shoot dates." It was more like a workshop environment as opposed to an orthodox --
Knight: And virtually no pressure because no one's turning up questioning you. It was like we were in control of ourselves which was great.
Did you find your performance changing as you shot the script again and again each night?
Hardy: Yeah, because I didn't learn the lines. It was more of a sight reading exercise. You could depend on what somebody was saying to you and how they're effected instead of being locked into sort of a rehearsed reaction. There's no posing because it was a live feed because there was an eye-to-ear coordination of listening and reacting to what is going on in the moment. So, yes, there was changes in every single take. We'd fish for different options so it was never repetitive, it was always fresh. Obviously the script moves on it's own volition anyway, but how we got there was different on most nights. It was really freeing actually because the constraints were all set in place with the car and the script. What was free-flowing was the actual dialogue and that was written verbatim, so it was said and spoken verbatim. There's a different freedom from being completely locked down. For me it was very refreshing and it sounds alive.
Knight: It was one of those projects where all of the drawbacks and constraints became positives. The idea of stumbling across this thing where reading the script from the page effectively suddenly frees you up from limitation. You think it'd be the opposite. It actually makes you completely free because you know what's coming, but you don't know what's coming. The words can be different all the time, and it's a real examination of the way that dialogue works.
Hardy: You don't act off the line. It's not like you pause and think about how you say the line because you're in a conversation and you're listening, you have to respond in real time depending on what's been given to you. There's no need to crowbar any acting on to it. Pretty much nine-tenths of what I say, Ivan's either trying to put out a fire or he's opening up a new dynamic whereby the fire gets bigger than he has to put it out again. It's in-between points of exposition and calming. It was a very basic, simple script in many ways for an actor to read so you don't have to put a character on to it, it will do it itself, just leave it alone, which was incredibly freeing as well because you can really play with it and be very, very free. That's what was exciting about it.
What about the physical aspect of it, filming in a car instead of on a set?
Hardy: Again, really freeing because you've got limited work space. Obviously you've got to stay on the road with the car, but the GPS is going in a straight line, the story is going in a straight line, you can only end up where you're going. The car then becomes a lateral environment. There's the window, and the passenger seat is where all the meaningful objects are. We have the telephone, the GPS system unit, which is a character, and then the road ahead of us and this sort of hypnotic world around us.
Knight: It's sort of gifted at imagery. That's the future [gestures towards the road in front of the car]. The rearview mirror is the past. Outside is chaos, the lights and movement, and inside is poor Ivan, the human trying to make order, trying to make rational.
Ivan is such a refreshing character to watch. Although he keeps causing pain and chaos for others, he's actually a good guy at heart and wants to fix his errors.
Knight: That's [what we wanted], to point the camera at an ordinary man, what one would consider an ordinary man. He's married with two kids and works in concrete, the least glamorous thing, and yet it isn't. Although these events won't make the paper or the local news, for the people involved it's the end of the world and that does deserve a film, it's worthy of drama. Just deciding that in an ordinary man's life there are events that are tragedy, in the classic sense. He's called Locke because he's the John Locke philosopher of rationality and he's trying to do stuff logically.
Tom, I've read before that you look to real people to inspire your characters. Did anyone inspire Ivan?
Hardy: Yeah. I love to chase down that which is authentic and hold on to it. There's a very legitimate reason for choosing Ivan's Welsh accent. Legitimately we had to find somebody who was in a working class, but had built himself from the floor up and had found himself in a position of success. The Welsh accent, it's quite a terrain, sort of rocks and hills and sheep. In my mind, the men that come from [Wales] have a certain gravitas and integrity. There's a durability to them and an inner strength, but there's also a very gentle nature to their tone. Technically if Ivan Locke is going to be calm and putting out fires, he's going to sound something like Richard Burton. Also, you can tell this is a working man. So I found a man, I found the man, actually. I thought, "This is it." I spent a good amount of time listening to this man for a solid week. I said "This is Ivan Locke." So I copied the guy, to the letter. A little bit of Richard Burton influenced me, a little bit of Ivor the Engine and Fireman Sam, but it was Bill Freear, that was this guy. Suddenly I told Bill I based this character on him. The Welsh press got in touch with him and they wanted an interview. Bill took the call and -- he's not Welsh, at all! [Laughs]
Knight: Where is he from?
Hardy: No fucking idea! But he's not Welsh. He said, "I'm sorry Tom, I did tell them that I do like sheep." So I based it on someone who wasn't Welsh and if anybody's questioning my Welsh accent they have good reason to. But that's the truth.
"Locke" opens in select theaters on Friday, April 25.
BEFORE YOU GO
PHOTO GALLERY
Celebrity News & Photos