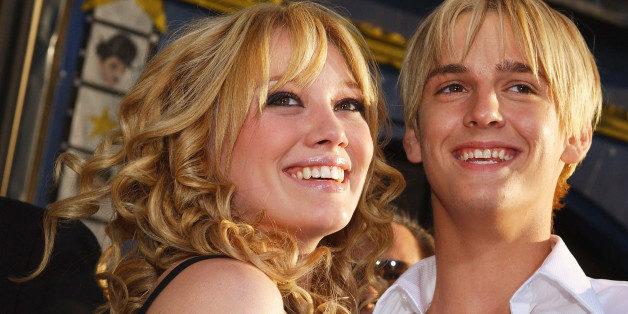 It doesn't seem like Aaron Carter has given up on his dream of getting Hilary Duff back, despite how unlikely it may be.
The two child stars dated on and off starting when they were 13 years old. He cheated on Duff with Lindsay Lohan and with Duff's best friend. Apparently, he has carried that mistake with him over the past decade because last month Carter tweeted about his undying love for Duff, who split from husband Mike Comrie in January.
"Don't be that stupid douche that loses the love of your life forever.. Like me...," he wrote. "I'll spend the rest of my life trying to better myself to get back to her. I don't care what ANY of you think."
This week, Carter sat down with "Entertainment Tonight" and stood by his public proclamation of love to Duff.
"Not at all," he said, when asked if he has any regrets about issuing the very public sentiments. "That wasn't meant for the media or anybody like that." Alas, the tweets did not get him back in touch with his love. "We reconvened when we were like 19, or something like that, we went out to, like, lunch or something. She's just a great girl. The one that got away ... She didn't respond [to the tweets]. I wasn't really looking for that either. I'm sure she got the message."
While he admitted that he still loves her, he said he's not in love with her.
"How could I be? I don't know who she is today. She doesn't know who I am today. But I would sweep her off her feet if I ever got the chance to again, and fix what I did wrong. I'm going to do everything in my power to fix those relationships in my life, just like I wanna fix the relationship I had with the love of my life. I'm not gonna give up on Hilary. Never."
Duff hasn't yet publicly responded to any of Carter's comments.
Watch Carter's full interview below.
BEFORE YOU GO
PHOTO GALLERY
Celebrity Odd Couples