Leave it to Ellen DeGeneres to get our favorite tiny titans of fashion laughing. It's almost as good as getting Anna Wintour to smile.
Mary-Kate and Ashley Olsen (who just released a crazy expensive nylon bag) also have new fragrances for sale. They promoted them on "The Ellen DeGeneres Show" yesterday, where Ellen got to try out the scents.
While the Olsen twins were discussing the packaging and duality behind their two new perfumes, Ellen decided to liven up the conversation. Just as Mary-Kate was explaining the sandalwood scent more associated with the darker fragrance, Ellen spritzed a bit of the perfume into the air, sniffed approvingly and then spritzed it into her mouth a few times.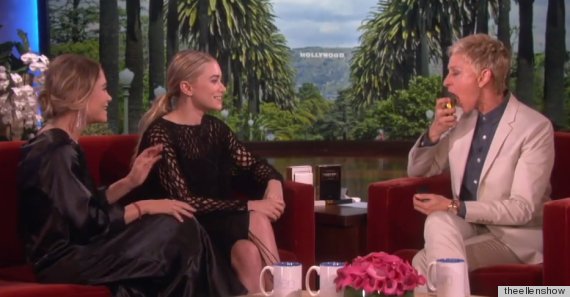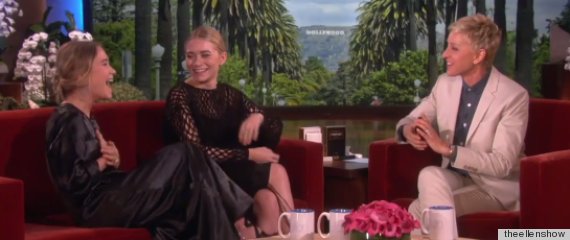 Catching the girls completely off-guard, the twins broke out into a fit of giggles. Ashley responded by saying, "It's delicious," and Mary-Kate adorably answered Ellen's antics with, "It scared me! Haven't been on TV for awhile." Ellen joked, "I was hoping when I lifted it, that it really was full of water."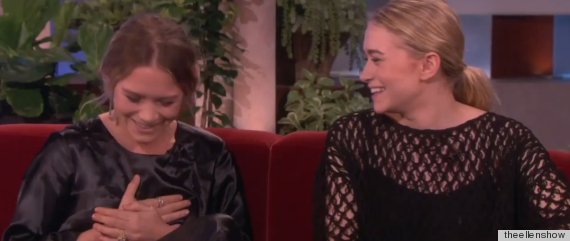 The Olsen twins are recognized as international trendsetters, but Ellen was the one giving us the "trendiest" new way to try out new fragrances before we buy them. But we probably wouldn't try this ourselves or even recommend you doing so either.
You can buy the Olsen twins' new fragrances Elizabeth and James Nirvana Black and Elizabeth and James Nirvana White at Sephora.
BEFORE YOU GO
PHOTO GALLERY
Olsen Twins' Style Evolution