Warning: this post may contain imagery that is graphic to some.
A Polish art collective is reportedly being sued for a controversial painting that includes an alleged depiction of the late Pope John Paul II being breastfed by Father Tadeusz Rydzyk, the head of a right wing Catholic radio station.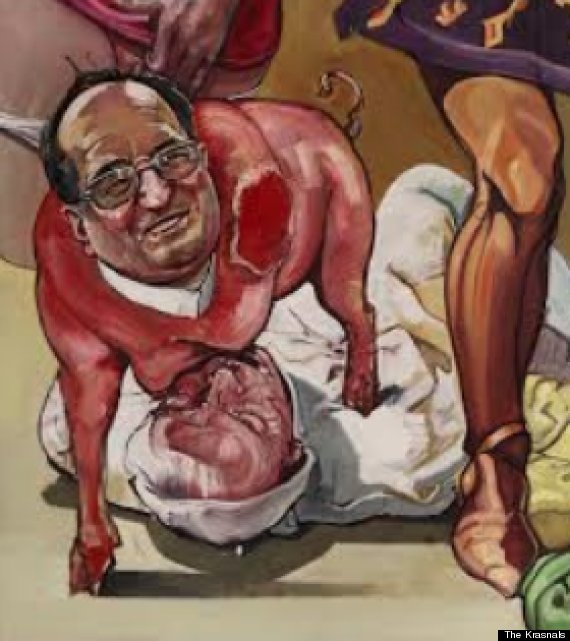 Although the image in question takes up a small section the bottom left of the picture, the painting has been called "outrageous" and "degrading", especially with the late pope's canonization coming up on April 27.
The Krasnals is an anonymous, anti-establishment group of artists based in Poland who call themselves "culture provocateurs." Their painting in question -- called 'Battle of Grunwald/Ship of Fools' -- is intended as a commentary on the most recent period of Poland's history, The Krasnals told The Huffngton Post by email.
"'Battle of Grunwald/Ship of Fools' shows the events and characters of last period of Polish history. The painting is painted in the convention of surrealism and popart-comic, with South Park-like humor. This is Polish-Polish war taking place on the Hieronymus Bosch's Ship of Fools.
We are all fit to be illustrated in the painting, because every one of us is an actor in the theater of the absurd. Whereas we had to make a choice and depict spectacular personas, known to everyone from the TV screen, the leaders who have bigger control of the direction the ship drifts...The more complex characters are in crisis because the world around them is incomprehensible."
Among these "more complex characters" are Father Rydzyk and, presumably, the late Pope John Paul II, which The Krasnals said is intended to highlight the confusing divide between religion and secularism in Poland.
"The base of our Polish society is strange," The Krasnals told HuffPost. "Our poor country totes itself between two fanatical options -– borderline left-wing (post-communist) and borderline right-wing (connected to the Church). We have illustrated both of those poles with pigs located in opposite corners of the painting, however the media concentrated only on the one of them – the right-wing one – father Rydzyk. But what is incredible is the reaction of society, who saw in the white figure lying underneath the Rydzyk the pope, John Paul II, who is in all different places in the painting."
Known for pushing the boundary with their work, The Krasnals told HuffPost they hoped the painting would unite Poles, even it draws criticism.
"We are very happy about voices of criticism, the art exists to provoke, to make people think," The Krasnals told HuffPost. "Everyone has the right to criticize, to like something or not like it...The painting unites all Poles, because everybody can find in it somebody that he hates."
BEFORE YOU GO
PHOTO GALLERY
Alex Grey's Visionary Art