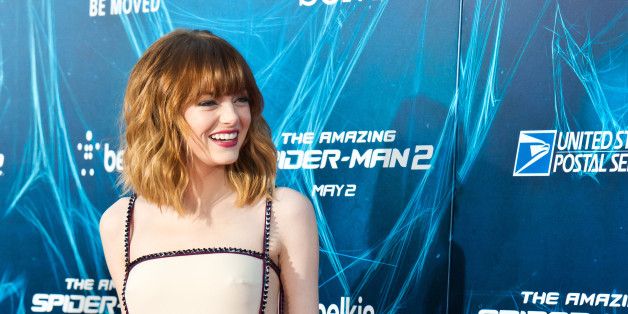 It's safe to say that spring is officially here. Hallelujah!
And spring leads into summer, which means we are going to be shedding our layers in no time. Once the temps start to rise, it's always refreshing to get a haircut or brighten up your face with a new lip color, and no one understands that better than Hollywood.
Emma Stone has been killin' it during her "Spiderman 2" promo tour, debuting a new brightened red 'do and bangs. In other news, Kate Middleton's Australia tour is over and while that may make us sad, we're more than happy to go back and ogle all her incredible outfits. Check out our favorite Twitter beauty moments from the last few days.
Emma Stone took our breath away in @Prada last night. See the complete look: http://t.co/sFEumqerIj pic.twitter.com/Ui803Wl1IE

— Harper's Bazaar (@harpersbazaarus) April 25, 2014
Inside Kate Middleton's $65,000 royal tour wardrobe: http://t.co/XASLm75Dr0 pic.twitter.com/hLAANCsv7a

— E! Online (@eonline) April 25, 2014
We seriously can't get over how perfect Kate Middleton's hair is: http://t.co/3o356XYSzV pic.twitter.com/gwUHXKgAwb

— StyleList (@StyleList) April 25, 2014
These stars got paid WHAT to go to Coachella? Watch: http://t.co/D1iemwtfYG pic.twitter.com/iXMuF9WkQr

— StyleList (@StyleList) April 25, 2014
These new girls-only headphones are designed to give women the sound they prefer http://t.co/SSVbMlQrDV pic.twitter.com/6VlXKEJicc

— Daily Mail Femail (@Femail) April 25, 2014
Behold: @ZooeyDeschanel's totally awesome spring shopping list: http://t.co/E2MDBRdpov pic.twitter.com/UmxR9wJNoj

— Who What Wear (@WhoWhatWear) April 25, 2014
The Duchess of Cambridge makes a new friend.... #RoyalVisitAus pic.twitter.com/Z9ACMljaQJ

— Rebecca English (@RE_DailyMail) April 20, 2014
The best looks from last night's @OtherWomanMovie & @PaloAltoMovie premieres: http://t.co/qrEBlpDGOa pic.twitter.com/fltISSbsZP

— Harper's Bazaar (@harpersbazaarus) April 25, 2014
.@KarenElson_ models a look styled by @JessicaBiel and @EsteeStanley featuring new #TiffanyAtlas: pic.twitter.com/CJZTZMc7uz

— Tiffany & Co. (@TiffanyAndCo) April 25, 2014
FINALLY—the complete tutorial for achieving Khaleesi's enviable waves is here: http://t.co/zYGRoE37nE pic.twitter.com/EUZ4OJWrf3

— Harper's Bazaar (@harpersbazaarus) April 25, 2014
How to add a pretty rope braid to all your wedding-season hairstyles: http://t.co/DrENmUpvLN pic.twitter.com/zeDPYR3AF5

— Glamour (@glamourmag) April 25, 2014
.@JLo shows off those famous curves in lots of sparkles http://t.co/xaZgmGuDPE pic.twitter.com/SBjT4AOE0l

— Huffpost.ca Style (@HuffPostCaStyle) April 25, 2014
@KateUpton looked lovely in Maiyet Open Machu Picchu earrings last night at the @OtherWomanMovie Screening in NY pic.twitter.com/Z4dmXlkQim

— Maiyet (@maiyet) April 25, 2014
BEFORE YOU GO
PHOTO GALLERY
Celebs With No Photoshop