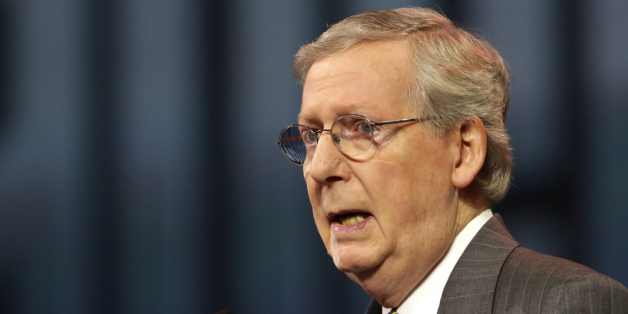 As he battles through a tight 2014 reelection campaign, Senate Minority Leader Mitch McConnell (R-Ky.) believes himself to be a popular target.
The Los Angeles Times reported Friday that McConnell had some of his most pointed comments yet against Kentucky Secretary of State and Democratic rival Alison Lundergan Grimes, while setting himself apart from the rest of the 2014 GOP field.
From the LA Times report:
"I'm the only Republican running this year that every crazy liberal in the country's heard of," he said. "They'll be sending their money -- they already are -- to my opponent. She'll be arguing to all of you that she'd be a new face. And I agree, she would be a new face. But think about it this way: a new face for what? A new face for no change. A new face for the same majority, the same Senate, the same support for Barack Obama. A new face for the status quo."
McConnell's comment came in Beattyville, Ky. -- the town where a local newspaper report landed the incumbent some controversy this week. Asked by the Beattyville Enterprise about his plan for bringing jobs to Lee County, Ky., McConnell appeared to look in a different direction.
"Economic development is a Frankfort issue," McConnell said, referring to the state capitol. "That is not my job. It is the primary responsibility of the state Commerce Cabinet."
Grimes went after McConnell's comments Thursday in a phone interview with the Huffington Post, saying that the only job he cares about is his own.
"I stand in complete contrast and disagreement with him," Grimes said. "Unlike Mitch McConnell, I listen to Kentuckians. It is the job of a U.S. senator to put hardworking Kentucky families back to work and to grow our middle class. He shocked not just myself but all of Kentucky when he declared that economic development is not his job."
McConnell responded to the Beattyville Enterprise report in a statement, claiming his comments were misinterpreted.
"Unfortunately, it seems my message got lost in translation, and I was surprised to see a headline about my visit that sent the exact opposite message to the one I was trying to convey," the statement read.
BEFORE YOU GO
PHOTO GALLERY
Say Cheese! Mitch McConnell Smiles