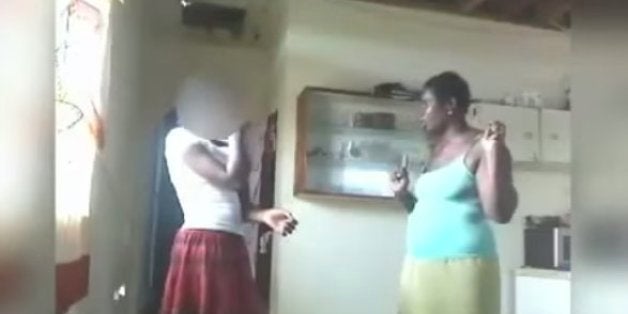 A mom posted a now viral video showing what appears to be her whipping her young daughter with a belt for posting photos on Facebook.
After the video (which can be seen below) circulated online, Helen Bartlett of Point Fortin, Trinidad defended her actions, saying that her 12-year-old daughter posted inappropriate photos of herself on Facebook and she wanted to teach her a lesson.
UPDATE: The original YouTube video has since been removed.
"She is pretty, well educated. She is intelligent, but she has a sense of low self-esteem," Bartlett told the Stabroek News. "She wants to be with the 'in' crowd."
Bartlett also said she has no regrets.
"I stand firmly by my decision. I will go to jail for it," Bartlett said. "I know people are saying the authorities should charge me for abuse. She is not supposed to be putting her underwear on Facebook."
The Jamaica Observer reports that the Trinidad and Tobago Ministry of Gender, Youth and Child Development expressed concern over the incident, once the video went viral.
"The ministry strongly advocates the use of non-physical forms of discipline," it said in a statement. "Physical forms of discipline can lead to harm and unintended consequences, including serious injury, poor mental health or even death."
But Bartlett may not face criminal charges since, as the Guardian in Trinidad and Tobago points out, there is no law against corporal punishment in the country.
Studies published by the American Psychological Association have linked physical punishment by parents to higher rates of violence among their children.
Corporal punishment is also condemned by the American Psychoanalytic Association which notes that physical punishment of children is linked to "increases in delinquency, antisocial behavior, and aggression in children, and decreases in the quality of the parent-child relationship, children's mental health, and children's capacity to internalize socially acceptable behavior."
The organization also notes that "adults who have been subjected to physical punishment as children are more likely to abuse their own child or spouse and to manifest criminal behavior."
BEFORE YOU GO
PHOTO GALLERY
Questionable Parenting