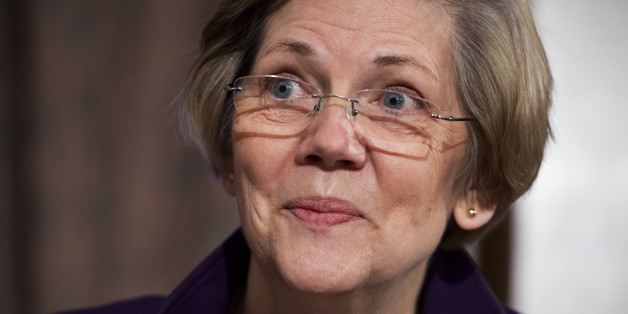 WASHINGTON -- Sen. Elizabeth Warren (D-Mass.) is headed to Oregon next month to help secure the reelection of one her fellow progressives, Sen. Jeff Merkley (D-Ore.).
Warren and Merkley will hold a grassroots fundraiser in Portland at 12:30 p.m. on May 28 at the Hilton downtown.
"I'm proud to have Elizabeth's support and glad Oregonians are going to have a chance to see up close how terrific she is," Merkley said in a statement provided to The Huffington Post. "She is a champion for working people across this nation and a close ally of mine on so many issues, from the battle to reform Wall Street to our fight to bring down the cost of college loans. It's a privilege seeing her in action in the Senate and I'm glad to have her join me here in Oregon."
Merkley has become a key voice for progressives in the Senate, spearheading the push for filibuster reform and introducing the Employment Non-Discrimination Act, which passed the Senate with bipartisan support. He also led the opposition to Larry Summers becoming chair of the Federal Reserve.
In 2010, Merkley was a leading advocate for Warren to chair the Consumer Financial Protection Bureau. The admiration is mutual; when Merkley gave the keynote address last year at Netroots Nation, an annual gathering of progressive activists, Warren called him her "mentor" and "friend." At a recent stop on her book tour, Warren cited Merkley, along with Senate Majority Leader Harry Reid (D-Nev.) and Majority Whip Dick Durbin (D-Ill.) as three colleagues who have been "particularly helpful" in the chamber.
Although Warren is not up for reelection this year, she's a key figure in Democrats' attempts to keep control of the Senate. She's already raised over a million dollars for 22 Senate candidates this cycle. Last month, she went to Minnesota to campaign for Sen. Al Franken (D-Minn.).
Merkley is facing a handful of Republican challengers, with a pediatric neurosurgeon Monica Wehby and state Rep. Jason Conger considered the frontrunners in the GOP primary next month.
BEFORE YOU GO
PHOTO GALLERY
Senate Seats Up For Grabs In 2014