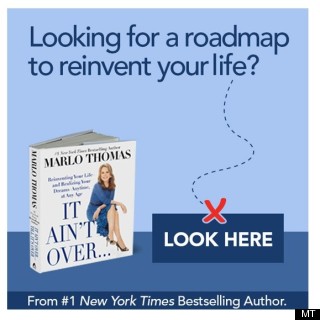 "One of the reasons I started my website is that I wanted a place for women to come together and dream. We women need to know that we don't have to hang on to an old dream that has stopped nurturing us -- that there is always time to start a new dream. This week's story excerpt is from my latest book, It Ain't Over Till It's Over. In recognition of Sexual Assault Awareness Month, this week's story is about a woman who found a way to honor her friend, a victim of domestic violence, by providing clothes to shelters for abused women."
-- Marlo, MarloThomas.com
When Sue Rock opened the door to her apartment building that afternoon, she was stunned. Staring at her from a funeral notice posted on the glass was the face of Tyleasha, a woman she knew from the neighborhood. She couldn't believe it—she'd just seen Tyleasha a few weeks before.
Shocked, she rushed over the next day to see Tyleasha's mom to offer her condolences. The grieving mother hugged Sue and whispered in her ear, "Her husband did it. He took himself, too."
"My blood turned to ice," Sue recalls.
Then Sue began reading news accounts of the killing. The week before her murder, Tyleasha had applied for a protection-from-abuse order, telling the police that her husband had beaten her, choked her, and threatened her with a knife—all in front of her children. Eight hours after the judge granted the order, neighbors reported seeing a man dragging a woman into the house during a violent argument. Tyleasha's husband stabbed her more than a dozen times, then called her mother to say, "I just killed your daughter," and, as security guards approached the house, shot himself in the head. Tyleasha's nine-year-old daughter answered the door.
Tyleasha's death haunted Sue for months, coming at a time when she was just recovering from her own family tragedy: Three years earlier, during his college spring break, her 18-year-old son had ended up in the hospital with end-stage liver failure. He died three days before his nineteenth birthday.
"It was horrifying," Sue says. "I knew I could either grieve for my son and never come back, or try to find a way to live a life without him. It took me three years."
Then Tyleasha's death. "It gave me a sense of urgency. I, too, could be gone at any moment, so any good I could do with my life, I wanted to do it."
Memories of Tyleasha came flooding back, only now Sue saw them in a new, grimmer light. "I began to remember pieces of the times I had seen Tyleasha. Late at night just arriving at her mom's. Was she running away from her home? In sweats. Was that all she was able to leave with? And I hadn't seen her in a while. She must have gone back to him."
The shocking murder had awakened her to a somber reality: Women escaping domestic violence flee with only the clothes on their back. How brave they are, Sue thought. But how do they even begin to start a new life?
An idea began to percolate. The first thing they need is clothes, Sue thought. Maybe this is the good I can do in the world.
Article Continues Below Slideshow
And Sue knew about clothes. She had grown up knitting and crocheting, and her husband, Jerome ("Rock"), was a trained tailor. For a year, they had been collecting fabric and other sewing treasures that were literally being given away.
"The idea was to find hundreds of regular folks like me—volunteers who knew how to sew, knit, weave, and crochet—and provide them the materials to make clothing for people in need." The more she thought about the concept, the deeper the connection she felt to the women who would be wearing her clothing.
Sue and Rock decided to name their new charity Sue Rock Originals Everyone Inc.—signifying that everyone in the community could participate, using their hands, not just their wallets, to make a difference.
Sue assembled her team of volunteers and began advising them on what kinds of items women in shelters could use, like tank tops or hoodies.
"I felt inspired by how effortless it was," Sue says. "Nobody said no. Fabric samples began pouring in from places like Liz Claiborne, Marc Jacobs, and Van Heusen. Everyone wanted to help. One day my husband even found a sewing machine by the door. And when we would hand out pieces to the women at the domestic violence residences, they were overwhelmed. It was a
delicious, life-affirming sensation."
Having started out with three local shelters, Sue's outreach quickly grew to ten more shelters, along with another half-dozen national and international agencies that distributed the goods they made to women in need everywhere.
"Once we got started, we were on a roll," Sue says. "We are get-to-work kinds of folks."
Transforming the lives of others has transformed Sue, too. "I have created this new person in me who is vital and feels a sense of urgency toward what's good in life. I'm making it up as I go along, but I'm doing it fearlessly."
* * *
To read Sue's story in its entirety, and to find out how she founded Sue Rock Originals Everyone Inc., get your copy of It Ain't Over Till It's Over, on sale now.
Add Marlo On Facebook:
Follow Marlo on Twitter:
Sign up to receive my email newsletter each week - It will keep you up-to-date on upcoming articles, Mondays with Marlo guests, videos, and more!