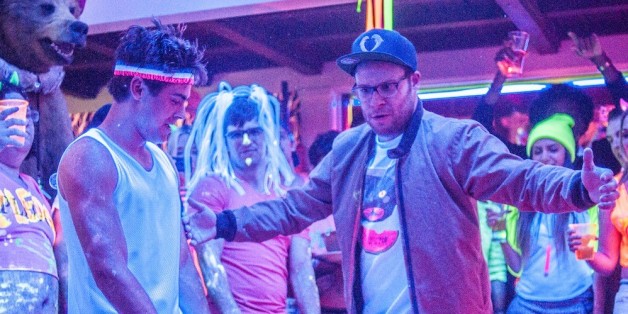 Music supervisor Manish Raval has helped compile soundtracks for everything from the television series "Girls," "New Girl" and "Community" to features such as "Bad Teacher," "Jackass Number Two," "Fever Pitch" and "Orange County." This year, the busy Raval has lent his talents to no less than four major studio comedies: "Tammy" with Melissa McCarthy, "Sex Tape" with Jason Segel and Cameron Diaz, "Dumb and Dumber To" with Jim Carrey and Jeff Daniels and "Neighbors" with Seth Rogen and Zac Efron. That last film, out May 9, focuses on what happens when a fraternity house (led by Efron's Teddy) moves in next door to a married couple (Rogen and Rose Byrne) raising their first child. Directed by Nicholas Stoller, "Neighbors" is not only one of the year's funniest films thus far, but also the kind of movie that could double as DJ for your summer house parties. With the film's soundtrack available now on digital formats via Atlantic Records, HuffPost Entertainment spoke to Raval about assembling the "Neighbors" playlist.
"Get Ur Freak On / Keep Me" by Missy Elliott / The Black Keys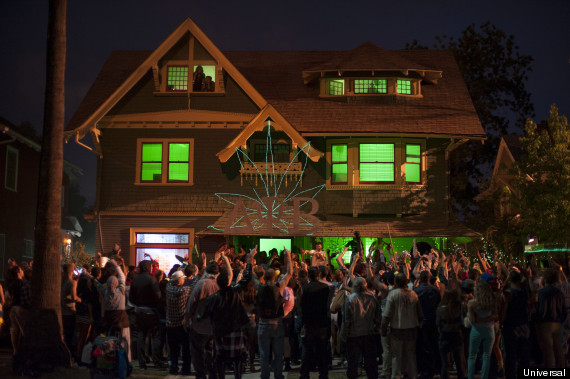 The first track on the "Neighbors" soundtrack, a mashup of Missy Elliott and The Black Keys, is actually from the film's third act, when fraternity Delta Psi throws its climatic party.
Raval: The mashup already existed prior to the movie. It was something I found while perusing the internet. It's so good. Everyone who I played it for immediately had that same reaction. As soon as the drums kick in and there's a backbeat behind Missy, everyone is like, "Oh, that's fucking awesome." There is a stigma against using mashups because they are a licensing nightmare. Technically, it's a new work that was kind of illegally made. I just thought it was too good to pass up. I just needed to break down the boundary of this being an absolute no. I got everyone involved that I possibly could and got both Missy and The Black Keys to approve it. As soon as you get that affirmation, nothing can stop you. There were a lot of mashups that we couldn't get approved because bands heard it and were not into the idea. This one, luckily we did, because it's a huge spot in the movie.
"Freaking Out" by Flo Rida
This new Flo Rida song is played during a dance off between Mac (Seth Rogen) and Teddy (Zac Efron).
Raval: It was originally shot to a different song, but then we got a copy of this. The prospect of having this brand new exclusive song in our movie, which also worked in the scene [was exciting]. The way that the song builds and builds -- talking about freaking out, it works so well for the picture. We put it on and we just thought, "Okay, we found the moment we were trying to create."
Are you looking to debut original songs on movie soundtracks or is that not a concern?
Raval: To me, it's only exciting if there is a good use in the movie or show. If it benefits that, then it's great. That's the first and foremost priority. Otherwise, it's like if we have these amazing exclusive songs, sometimes the only place to find it is buried in the background in a pharmacy or something. That's not fun.
"Good Day" by Nappy Roots
Jumping around some more, this song plays over the film's end credits.
Raval: I've had this song, basically, in my mind forever. I've wanted to use it for so long. It's so catchy. It's such a big pop hit that never became a hit. I've always scratched my head about that. I remember sending the song to Nick Stoller and saying, "Hey, listen to this song, it's such a feel-good song. It's so great with all the kids singing the chorus. It's just a great way for us to end the movie." There's something funny about hearing these kids at the end of this romp about warring neighbors. Nick loved it. It's a good song that captures the movie: a hit pop thing with a pop element and feel-good hook. It encapsulated the movie's sound in a way that I thought worked really well.
"London Bridge" by Fergie
Fergie's No. 1 hit from 2006 acts as musical accompaniment for a key scene featuring Rose Byrne's Kelly.
Raval: I can't remember what we did before we had that song in the movie. It was just whatever was playing originally in the aforementioned dance off and not a separate moment. Then I heard "London Bridge" somewhere. It's a song that I have heard a million times. It was a huge hit. Everyone knows it, but it was one of these "right place, right time" moments. I heard the opening: "Oh, shit." It was like a dog whistle. I thought, that would be so fucking funny if we put that phrase in Seth's mouth. I went and I cut it in, and then the rest of the song just played like magic.
I don't know what what happened when you saw the movie, but every single time we've shown the movie, the crowd erupts in applause [during this scene]. And it happened so randomly. It was a super happy accident. Had I not been where I was when I heard it, it wouldn't be in the movie. I can't even imagine if that hadn't happened. I don't even know what else would have been in that scene.
"Girls Girls $" by Theophilus London
The Theophilius London song is used when Mac and Kelly go to a frat party for the first time.
Raval: I love that artist, Theophilus London. I love his style. He has a very cool style. I love upbeat hip-hop. There just isn't a lot of it. This is just a great, upbeat track. It's got a great chorus, and it feels like a great montage song. It just works really well.
"All Night" by Icona Pop
In a fitting marriage of song and scene, the quintessential Icona Pop party song is played during a Delta Psi pool party.
Raval: We were just looking for a great pop song -- something fun and upbeat. At the time when we put it in, Icona Pop's record was just finished. We have a history with the band because of "Girls." It was just one of those things where we felt like we love using them, we've had great success using them, and it was a little before the record came out. We figured, "Oh, let's try it again, and put a great Icona Pop song in the movie."
Are you ever concerned that someone else might use a song or group in a way that detracts from what you're doing?
Raval: I try not to think about it so much. Unless someone really uses it in a way where it makes the song take on a life of its own. But I like to think of the project I'm working on as its own thing. I want to always feel like the usage is going to be the best choice for this particular moment in this particular project. We will pull something if we suddenly go see a movie and it's like, "Oh, guess what? They used that song in this amazing way."
After we used Icona Pop in "Girls," a bunch of other shows and movies had "I Love It" temped in, and we said, "You know, you have to take it out. We did it on 'Girls' and we're never going to do it as good as that show, so let's just not do it." That's why on this movie, we were like, "Let's just go with some new stuff. We're not going to recycle using 'I Love It.'"
"Hurt Me Tomorrow" by K'Naan
"Hurt Me Tomorrow" is used during a big emotional moment between Pete (Dave Franco) and Teddy.
Raval: The scene is a really comedic one. What they're doing on camera is so funny. It's pure comedy. Then when we put the song in, it became an emotional moment. It was one of those things where the first time we cut it in we realized that it was a moment. They're bros! We can get deep with this moment if we need to. It works. It was a rare thing where the opening of the song can be emotional, and then the beat kicks in and it becomes feel good. It's a great musical ending for all the stories involved.
There are so many montages in this movie. Does that make your job as a music supervisor more fun?
Raval: Without those moments, it's really hard to let the music have a big effect. You need those moments. You need the moments where the music is telling the story, or where the music is informing you of a feeling that maybe isn't happening on camera. For example, when Teddy and Pete are having this ridiculous back and forth about being in love, there's an emotional hip-hop song playing underneath it, and that changes the feeling of the scene. That's always great. As soon as we got the script from Nick, he said he wanted a lot of montages. It was definitely his vision from day one. So luckily it worked.
"Die Young" by Kesha
Kesha's hit single features during a montage of Mac and Kelly celebrating.
Raval: We had a lot of stuff in there. For a long time there was just score. We got to a moment where we said let's just load the movie up with the most fun music possible. We put that Kesha song in there and the lyrics were verbatim what is happening onscreen. We were like, "Oh my God, that's fucking perfect." We can look at in an ironic way or that the song is scoring their lives at the moment. It was just a cool use. We felt so secure in the movie that we didn't have to worry about using a song that was already popular and already a year or two out from being a huge hit. It didn't bother us. We didn't need the song to bring any kind of relevance to the movie. When that's checked off for you and you have no pressure for that, you can just use the song in the most fun way possible. As soon as it worked, we were like great.
"Cheap Beer" by FIDLAR
During the film's final party, this song signifies that things have gotten out of control.
Raval: We wanted some balls-to-the-wall party song that would really emphasize that Teddy's world was falling apart. We just instinctually wanted to find something loud, raucous and fun. We just love this band. It was one of these albums that you get as a music supervisor. You listen to so much music, but we listened to this one, and as soon as we heard this song, we thought it would make for a great use in a movie one day.
"Raise Those Hands" by R3hab & Bassjackers
This song comes in when Teddy sees Dave Franco's character betraying him.
Raval: It was another moment where we get inside Teddy's head. We go into this really trippy and cool sequence. We were really looking for something with that sound and in that style to take us out of the fun dancing of Flo Rida and to, "My best friend is about to [betray me]." What is that sound? It sounds like some dub step-y fucking crazy thing.
"First Name Trouble" by Witchman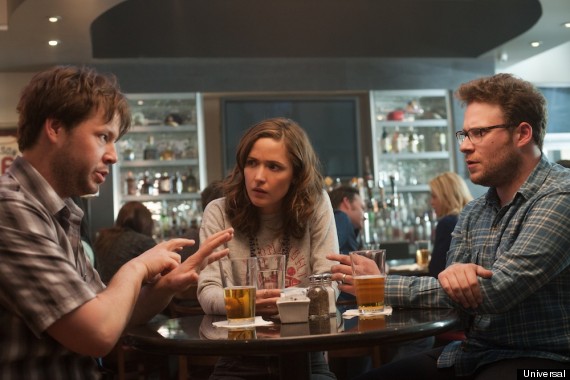 Throughout "Neighbors," Mac and Kelly try to plot the frat's downfall. "First Name Trouble" is used as they enter the party that could finally see them reach that goal.
Raval: We needed a badass song for these guys to walk into the party and to show that there's a big plan in effect. It's almost like, "What's the 'Ocean's 11' version of our movie?" This is that moment. Them walking into the party about to fuck shit up.
"Here Comes The Hotstepper" by Ini Kamoze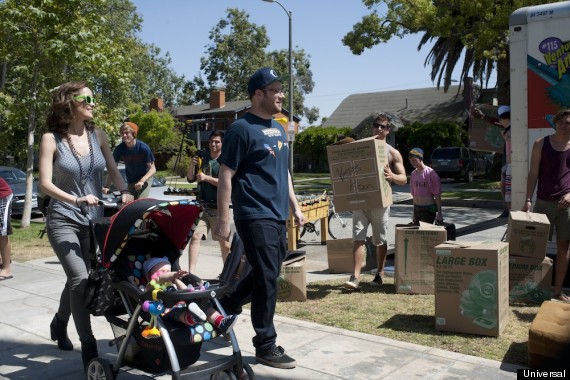 This classic throwback track is played as Mac and Kelly walk over and introduce themselves to the frat for the first time.
Raval: We tried a lot of different options for that scene, and there were a lot of great ideas that could have went there. This one worked the best because, once again, once we got the song, we were able to recut the picture to all the different beats. That really makes it feel so natural. I think that's the perfect blend: when you take the right song and match it to the stylistic, slow-motion cinematography, and recut the scene to hit the music. I didn't find this out until very much later, but Seth, personally, has been trying to use this song forever. Which was awesome. I was like, oh, man, I'm glad we all tuned into something.
BEFORE YOU GO
PHOTO GALLERY
Summer Movie Preview 2014