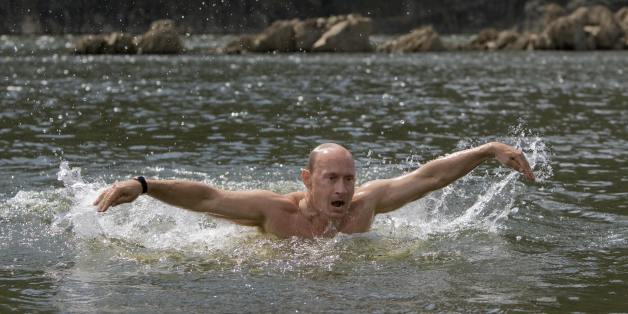 Last week, the world learned that Barack Obama would, in fact, save Vladimir Putin from drowning. But according to a HuffPost/YouGov poll, Americans don't think Putin would return the favor.
Responding to a question at a news conference in South Korea last week, Obama said, "I absolutely would save Mr. Putin if he were drowning." He noted, "I used to be a pretty good swimmer. I grew up in Hawaii."
Most Americans think that's true. In the new poll, they said by a 53 percent to 29 percent margin that they think the U.S. president would save his Russian counterpart from a watery death.
Even this question revealed a partisan divide. Democrats were convinced, by a 71 percent to 16 percent margin, that Obama would save Putin, and independents tended to agree, 48 percent to 30 percent. Republicans, on the other hand, were more likely to say he would not, by a 45 percent to 38 percent margin.
Despite the Republican disagreement, the majority aren't alone in thinking Obama would come to Putin's rescue. Earlier this month, Putin himself said, "I think he is a decent and quite courageous person. I think he would do it."
Neither Obama nor Putin, though, addressed what they think would happen in the opposite scenario. But the HuffPost poll asked the question about Obama in watery trouble, too. It found that the 25 percent of Americans who think Putin would save him were far outnumbered by the 51 percent who think he would not. Majorities of Democrats and Republicans, and a 46 percent plurality of independents, said Putin would not save Obama.
Perhaps anticipating that the Russian president might decide that some of them were not worth saving either, Americans were more likely to choose Obama (48 percent) than Putin (20 percent) as their own rescuer in the unlikely scenario that they were drowning and could choose either man to save them.
Democrats chose Obama overwhelmingly (78 percent to 9 percent), and independents were also more likely to choose the U.S. president as their rescuer (42 percent to 19 percent). Although Republicans were the least likely to think Putin would bestir himself to save Obama, they were still the most likely to want Putin to rescue them, by 38 percent to 21 percent.
Despite the fact that many Americans believe Putin would leave another man to drown and that others dislike Obama so much that they would rather be rescued by the apparently unreliable Putin, most Americans say that they themselves would save either world leader. Seventy-one percent said they would save Obama, while 57 percent said they would save Putin.
Majorities across party lines said they would save both men, though Democrats (79 percent) were much more likely than Republicans (52 percent) to say they would rescue Obama.
The HuffPost/YouGov poll was conducted April 18-21 among 1,000 U.S. adults using a sample selected from YouGov's opt-in online panel to match the demographics and other characteristics of the adult U.S. population. Factors considered include age, race, gender, education, employment, income, marital status, number of children, voter registration, time and location of Internet access, interest in politics, religion and church attendance.
The Huffington Post has teamed up with YouGov to conduct daily opinion polls. You can learn more about this project and take part in YouGov's nationally representative opinion polling.
BEFORE YOU GO
PHOTO GALLERY
113th Congress Facts