When Patrick Woloveck moved to New York City from his hometown in Ohio a few years ago, he wanted to update his style. First step: transitioning from the staid straight-cut denim he had worn for years to a fashion-forward pair of skinny jeans.
He was, however, in for a painful surprise.
"It was the same story everywhere," Woloveck, 26, told The Huffington Post on Tuesday. "The jeans I was trying on were all too constraining, too skinny and uncomfortable. I wanted to transition from the straight-leg pants I was used to, but there was no happy medium."
Specifically, he said he was alarmed by how most skinny and slim-fit jeans squeezed and squashed his family jewels. "What was available was just too tight in the crotch region," he said. "That's every guy's biggest fear. It's not what they want."
Sensing a business opportunity, Woloveck joined forces with a couple of fellow graduates from Ohio's Miami University and set to work designing a new line of slim-fit jeans. Slimbs jeans -- which launched its Kickstarter campaign this week -- was soon born.
"Most of [the skinny and slim-fit jeans] available in stores are in a European cut," Woloveck said of the idea behind Slimbs. "But based on market research, these are usually too skinny and uncompromising for [most] American guys. We've created slim fit jeans that aren't a pain to your manhood. These are pants that are comfortable, functional and aren't constraining."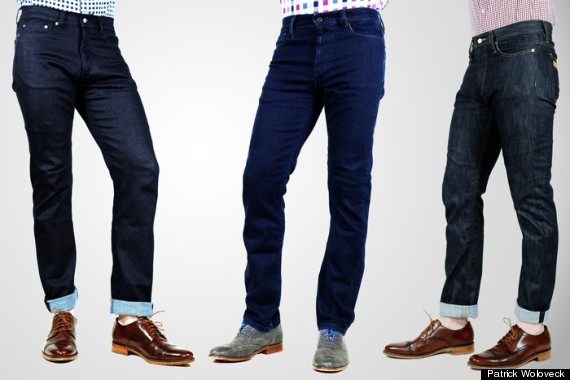 Designed and manufactured in Los Angeles and made from premium denim imported from Japan, Slimbs jeans -- which currently come in three washes -- have been designed to have more room in the crotch region and around ones' calves. The denim also has a touch of stretch to allow for easy movement.
"We wanted to create something more than just a pair of pants," Woloveck said. "We want to change the idea that guys have about slim fit and transitioning to slim fit. Guys should feel comfortable, mentally and physically when they're transitioning."
Woloveck said he also wanted to ensure that his jeans -- which are being sold for a little under $100 -- were affordable, so they wouldn't "break the bank or your balls." Slimbs also throws in one free repair service for every pair of jeans bought, so if the crotch area rips (a big worry for wearers of skinny jeans, according to Woloveck), customers are covered.
So far, it seems people have welcomed the idea of slim-fit jeans that allow the nether regions to breathe. Slimbs' Kickstarter campaign reached its goal of $10,000 in less than 24 hours and Woloveck says the response they've received has been very positive thus far.
"All my expectations have been exceeded," he said.
Slimbs isn't the only American denim startup that has generated buzz in recent days. Earlier this month, Nevada's Barbell Apparel made headlines for launching a line of denim made specifically for people who have muscular legs and butts; and last week, RPMWEST, a California-based company selling limited-quantity selvedge denim jeans, made waves after the successful launch of its own Kickstarter campaign.