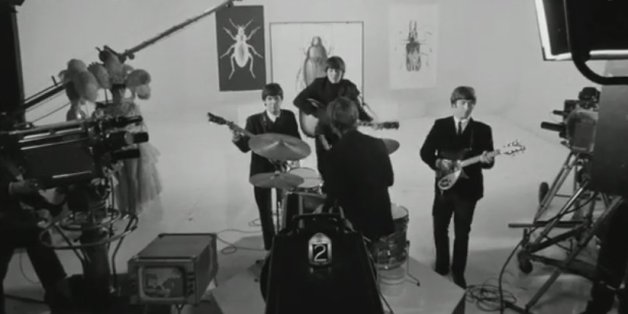 The Beatles' 1964 debut film, "A Hard Day's Night," is returning to theaters this summer.
To commemorate the 50th anniversary of the film's premiere at London's Pavilion Theatre, the comedy musical will return to more than 50 cities across the United States over Fourth of July weekend, according to the Los Angeles Times.
Directed by Richard Lester and written by Alun Owen, the movie features the band just after their famous U.S. debut at the height of what became known as "Beatlemania." Janus Films has digitally restored the entire film and hired Giles Martin, the son of the Beatles' producer, to remix and remaster the iconic soundtrack, according to the LA Times.
(Story continues below).

The movie follows Ringo Starr, Paul McCartney, George Harrison and John Lennon playing exaggerated versions of themselves on a trip from Liverpool to London to make a TV appearance. Along the way they must deal with an uptight manager, hordes of fans and McCartney's strange grandfather.
Rolling Stone reports the original movie was made with a production budget of about half a million dollars, and it eventually made more than $12 million. The soundtrack even ranked No. 4 on the publication's list of 25 Greatest Soundtracks of All Time, the outlet notes.
The film features popular Beatles songs such as "I Should have Known Better," "Can't Buy Me Love," and the title song, "A Hard Day's Night."
BEFORE YOU GO
PHOTO GALLERY
The Beatles Song