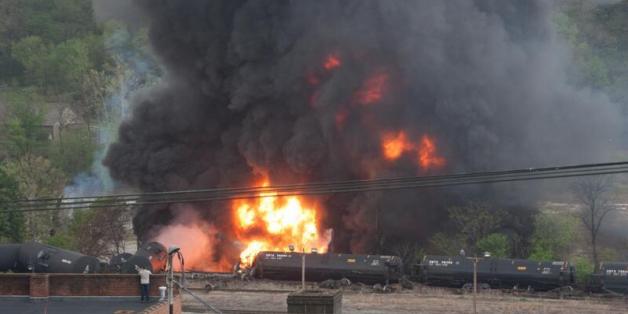 A CSX train derailed near downtown Lynchburg, Virginia around 2:30 p.m. on Wednesday, prompting evacuations and calls to avoid part of the city as flames and a plume of black smoke rose into the air. There are no immediate reports of injuries.
The City Of Lynchburg announced that the train was carrying crude oil and three or four of its 13 to 14 cars were breached.
"There is some spillage in the river of crude oil," Lynchburg city spokeswoman LuAnn Hunt told the Richmond Times-Dispatch. Richmond primarily draws its water from the James River, downstream from Lynchburg. Another official said the city is making plans to tap an "alternative water supply."
The train's tankers may be from a class of rail cars deemed an "unacceptable public risk" by a member of the National Transportation Safety Board in February. These black, pill-shaped cars, known as DOT-111s, have been involved in recent notable oil train derailments in North Dakota and Quebec.
"We are very clear that this issue needs to be acted on very quickly," National Transportation Safety Board Chairman Deborah Hersman told reporters last week. The Transportation Department is currently working on stricter standards for rail tank cars used to transport hazardous materials. "They aren't moving fast enough," Hersman said.
3 cars in James River. LPD confirmed crude oil is leaking into River. No injuries in explosion. @ABC13News pic.twitter.com/gEXTnpxchD

— James Gherardi (@GherardiReports) April 30, 2014
"RT @ABC13News A train in the lower basin has derailed and caught fire." scary stuff in downtown Lynchburg. stay safe pic.twitter.com/eNdGb5F33F

— jake holland (@jakeholla) April 30, 2014
Train derailment in lower basin. Watch live: http://t.co/wucMzZtps4 pic.twitter.com/JSfKIqda7G

— ABC13News (@ABC13News) April 30, 2014
Another picture of the #Lynchburg train derailment. http://t.co/1SlETH8cdp pic.twitter.com/ssmvFnUKF1

— WDBJ7 (@WDBJ7) April 30, 2014
Photo of train derailment in Lynchburg pic.twitter.com/SZsit3eKw8

— James Riverkeeper (@UpperJamesRK) April 30, 2014
BEFORE YOU GO
PHOTO GALLERY
Oil Spills Since The Gulf Disaster