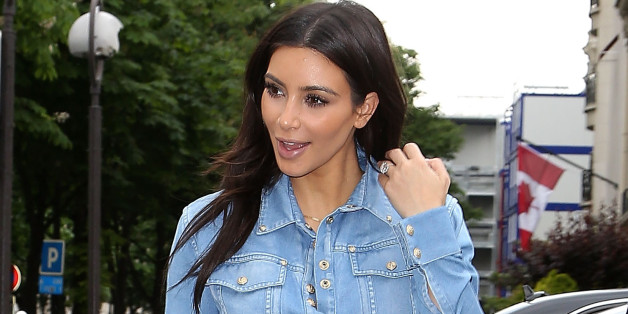 With countless selfies and a recent bulk purchase of her Vogue issue, it should come as no surprise that Kim Kardashian likes the way she looks. However, during one particular interview, her vanity was a bit of an issue on set.
Australian veteranarian and television personality Dr. Chris Brown spoke about his on-air experience with the reality star during an interview on the "Kyle & Jackie O Show" Tuesday, April 29. Brown is a guest panelist on the Aussie talk show, "The Project."
"Let me tell you about Kim Kardashian," Brown said. "She is a very, very special human being. I know this because we actually interviewed her on 'The Project' ... We had her on the desk and we interviewed her, okay? And we're about one or two questions in and all of a sudden I can see there's a commotion amongst the floor managers, they're sort of running around and moving things around. I thought, 'I wonder what's going on there?'"
After the interview, which took place two years ago, according to RadarOnline.com, Brown asked one of the crew members what had happened because it was hard to concentrate with all the movement.
"They said, 'I can't believe you didn't notice, but for the first half of the interview her eye-line was down and to the right.' And I said, 'Yeah, I saw that, I just thought she was nervous.' And they said, 'No, no, no. We had to move all the monitors and turn them around because all she was doing was looking at herself the entire interview' ... And after they did that she actually looked at us for a change."
The show's hosts chalked it up to narcissism, but maybe Kardashian was just distracted because she's used to cameras around her as opposed to focused on her. Probably not, though.

BEFORE YOU GO
PHOTO GALLERY
Celebrities Mock Kim Kardashian