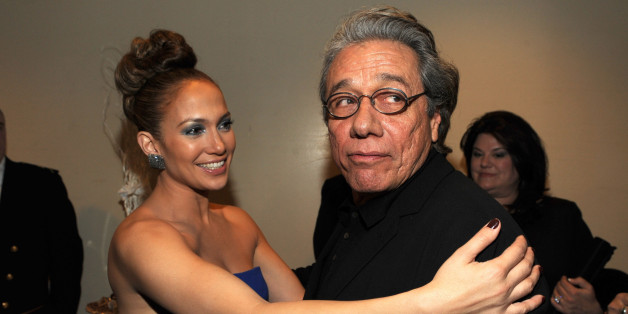 Edward James Olmos isn't quite happy with what former co-star Jennifer Lopez has done with her career.
The two shared the screen in the 1997 Selena biopic, but recently the actor told Telemundo's "Suelta La Sopa" that he believes J.Lo has neglected her roots since the film catapulted the Puerto Rican star to fame.
Olmos, 67, portrayed Abraham Quintanilla's father in the movie that depicted the rise to fame and tragic death of the young Tejano singer, played by Lopez. The story and movie resonated largely with Latino audiences in the U.S. and the Mexican-American actor says that Lopez owes her success to the iconic role.
"[The role took her] to a stardom that she would not have been able to reach without that film," Olmos told the program. "I told her: You have to understand that the future is in your hands and hopefully you will not only use it to get yourself ahead but to get what we represent ahead, being a Latina woman."
"She's done a lot of things but she hasn't dedicated herself to her culture, and that's very important to me," he continued.
During the conversation with "Suelta La Sopa", Olmos also mentioned the Cuban-American actor Andy García who has said he doesn't consider himself a Latino actor. The Oscar-nominated star said that actors like Lopez and García are proud of their heritage but "don't like the limitations of being Latino, they only want to be artists."
Jennifer Lopez has often expressed the need for diversity in film and television, citing Puerto Rican actress Rita Moreno's role in West Side Story as an inspiration to begin her own career.
In 2012, the singer and actress also partnered with nuvoTV cable network to help create more diverse programming for a Latino audience.
"As an artist, businesswoman, producer and Latina, I'm passionate about seeing multicultural America on TV," Jennifer Lopez said in a Sept. 2012 press release. "My partnership with nuvoTV reflects our mutual goal of creating top-quality entertainment and exciting stories that embrace the richness and beauty of Latin culture in America today."
Olmos did add that he and the "On The Floor" artist have stayed in touch over the years.
"We haven't been able to stay connected as friends. We're friends and we care about each other a lot, but I've never been to her house."
Check out the interview in Spanish here.
BEFORE YOU GO
PHOTO GALLERY
Jennifer Lopez Through The Years