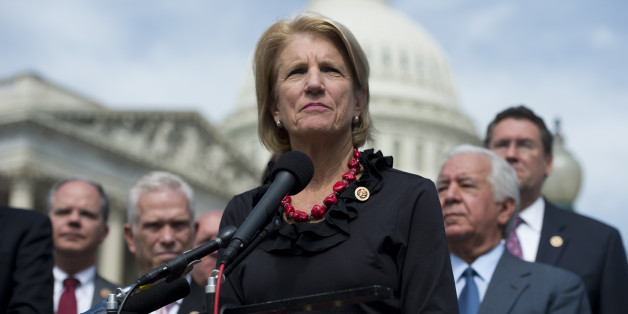 Jonathan Bernstein offers advice for basic literacy in reading election forecasting models. A new set of Senate rankings based on non-polling data leaves us scratching our heads. And we promise we won't call the cops if you smoke pot while reading this newsletter. This is HuffPollster for Thursday, May 1, 2014.
CAN EXPERTISE BEAT THE POLLING MODELS? - Jonathan Bernstein: "Time to return to an electoral literacy project: how to read election projection models….There are two types of uncertainty...the normal uncertainty in any statistical estimate, and the additional uncertainty about whether the conditions of the electoral cycle will match what the model expects right now. Trying to beat the first kind is a sucker's bet; it's like betting that "heads" will come up 60 percent of the time with an honest coin. But it is possible to beat the second type of uncertainty. It's certainly possible that an expert could predict economic conditions later this year better than whatever the various systems plug in for their predictions, for example. And it's certainly possible that an expert political observer could do better than the objective indicators that these models generally use for candidate quality….The bottom line isn't that these models are perfect predictors. They're not. What they can do, however, is give us reasonable expectations based on all the evidence we have so far about what usually matters and how the objective indicators look at this point. Tossing that out is just as foolish as tossing out the expertise that can sometimes see past the models." [Bloomberg]
DO TNR'S SENATE RANKINGS TELL THE WHOLE STORY? - Wednesday's HuffPollster linked to a New Republic article that compared "the relative difficulty and costliness of this year's most competitive Senate races," ranking West Virginia, Alaska and Montana as the three easiest to win of the 12 assessed. [New Republic]
Since it compares raw counts, small states rank higher - Harry Enten: "The New Republic put together Senate rankings, but the rankings didn't use polling data. Instead, they're based on how many voters would need to be mobilized in order for each candidate to win. The magazine did this by looking at the partisan lean of the voters, according to voter profiles built from demographic and past voting data…. I found one thing especially difficult to swallow. The article tells us how many new voters need to be motivated without accounting for how many potential new voters there are. That is, the article makes it seem like finding an additional 69,014 votes in Alaska is easier than finding 144,919 voters in Iowa. Of course, the difference between turnout in 2010 and 2012 in Alaska was only about 45,000. In Iowa, it was roughly 465,000. Iowa is also considerably more Democratic-leaning than Alaska. There are only so many voters in each state; Alaska Democrats looking for almost 70,000 new voters will have a much tougher time than Iowa Democrats looking for 150,000. The same holds true if we compare other states with big population differences, such as West Virginia and North Carolina." [538, TNR rankings]
The Democratic partisan score is based on a proprietary model and opaque weighting - They key statistic in the TNR targeting is a "Democratic vote deficit," calculated by subtracting "core Democrats" (Democratic partisans who are extremely likely to vote) from an estimate of the number of votes needed to win. And how do they identify Democrats in a consistent way across states without survey data? They use an "average partisanship score—another Clarity statistical model that draws upon myriad variables in consumer and political databases to project which party someone aligns with." What about differences in available voter file data (like partisan registration) that might make the models less comparable across states? They made adjustments: "TargetSmart weighted the partisanship scores in its databases to reflect each state's actual voting patterns in recent federal elections." [TNR]
Are those weighted scores really comparable across states? That's a question that's hard to answer for those not privy to details about the model or the weighting. Why, HuffPollster wondered, did West Virginia have the highest "weighted party score" (0.507), despite giving Barack Obama his lowest percentage of the vote (35.5 percent) among these 12 states in 2012. Sasha Issenberg, who helped create the forecast model, replied via Twitter: "We didn't weight the states specifically to Obama, but a variety of Democrats' vote share...'12 Dems in WV, US Sen: 60%, Gov: 50%, SoS: 62%, Auditor: 57%, Treas: 55%, Ag: 51%, BHO: 35%...In 2012, 578 of WV's 1744 precincts gave Obama less than 40% of the vote, but Manchin 60%+." These statistics highlight a unique characteristic of West Virginia, a state with a lot of conservative Democrats who rarely if ever support their party in presidential elections. The key question for Democratic Senate candidate Natalie Tennant is whether she can win over the conservative West Virginia Democrats who have supported candidates like Sen. Joe Manchin in past elections. TNR's weighted scores appear to treat many of these voters as if they're already won over. [@VictoryLab via Storify]
EVEN MARIJUANA OPPONENTS WOULDN'T CALL THE POLICE ON POT-SMOKING NEIGHBORS - Emily Swanson: "At least half of Americans support legalizing marijuana, recent polls have shown. But even among Americans who think the drug should be illegal, few are so strongly opposed that they would report a pot-smoking neighbor to the police.According to a new HuffPost/YouGov poll, Americans support legalizing marijuana by a margin of 50 percent to 32 percent. But the number of people who would call the cops on a neighbor is much lower than that. Only 16 percent said they would report their neighbor to the police if they saw that person smoking marijuana in their home or yard, while 70 percent said they wouldn't do that. Even Americans who think marijuana should be illegal were unlikely to take that step. Among opponents of legalized pot, only 34 percent said they would call the police on their neighbor for smoking weed, while 47 percent said they would not." [HuffPost]
TODAY'S POLL SONNET, ON METHODOLOGY
How do I poll thee? Let me count the ways.
Sometimes I poll thee on the telephone,
Though you are not answering much these days.
And restless have my interviewers grown.
For this I often turn to robocalls.
Then cell phones do pose another trial.
And another decision on me falls:
Voter list, or random digit dial?
If not upon the phone I can thee get,
Though some may consider this a scandal,
Sometimes I poll thee on the internet
If thou hast entered my online panel.
These days a mix of methods I oft use
And then multiple samples must I fuse.
HUFFPOLLSTER VIA EMAIL! - You can receive this daily update every weekday via email! Just click here, enter your email address, and and click "sign up." That's all there is to it (and you can unsubscribe anytime).
THURSDAY'S 'OUTLIERS' - Links to the best of news at the intersection of polling, politics and political data:
-A poll of North Carolina finds a halt to Kay Hagan's declining approval, and growing name recognition for challenger Thom Tillis. [Elon]
-An InsiderAdvantage poll puts David Perdue and Karen Handel at the top of Georgia's GOP Senate primary. [Fox Atlanta]
-Jeb Bush is the favored GOP presidential candidate in Florida. [Quinnipiac]
-Opinion of the ACA is gradually rising. [YouGov]
-Ezra Klein explains how Americans hold contradictory beliefs about how many Americans signed up for health insurance through the exchanges. [Vox]
-Neil Irwin and Kevin Quealy look at the statistical noise surrounding the jobs report. [NYT]
-Michael Tesler examines the partisan gap in response to racial controversies including the NBA forcing Donald Sterling to sell the Clippers, the George Zimmerman verdict, and the Oscar for 12 Years a Slave. [WashPost]
-Dylan Scott reports on a House Republican survey of health care enrollees. [TPM]
-Lucia Graves notes Americans' fondness for political dynasties. [National Journal]
-Lee Miringoff celebrates a birthday and has the survey evidence to prove he's still middle-aged. [Marist]
-Ben Blatt outlines the problems with many viral maps. [Slate]
-An unscientific poll of Chipotle consumers finds little love for the tortilla. [The Awl]