Haunting, faceless mannequins are swarming Cleveland this month. They're dressed in hooded sweatshirts, loose pants and weathered sneakers, and -- from just a few feet away -- look like they could be any ordinary teenager.
Would you take the time to take a closer look?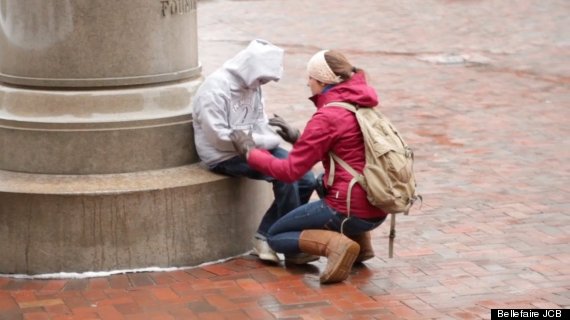 That's the question being asked by Bellefaire JCB, a child welfare agency servicing the greater Cleveland area. The mannequins, appearing around town starting this week and sticking around for a month, are part of the organization's latest public awareness campaign to shed light on youth homelessness, according to Cleveland.com.
"The average person rushing through their day does not see our youth," Karen McHenry, who runs homeless youth programs at Bellefaire JCB, told the news source. "Homeless and missing youth are invisible to most people."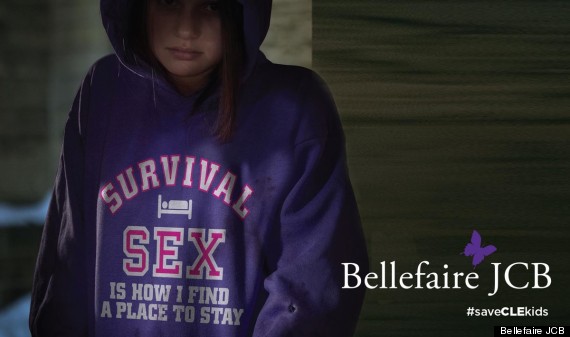 The campaign aims to expose the reasons behind youth homelessness -- across the mannequins' sweatshirts are statements, such as "Survival sex is how I find a place to sleep," "My dad kicked me out because I'm gay," and "I'm missing and my parents don't care." Nearby signs present startling facts on youth homelessness, showing why the public should care.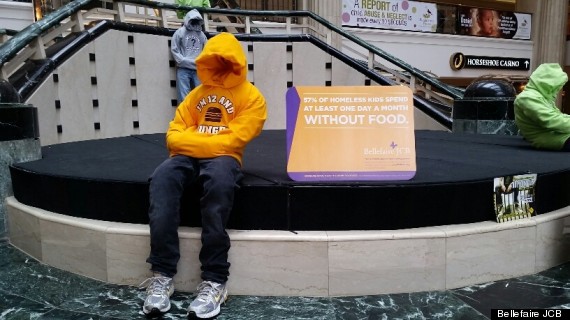 Although youth homelessness is a problem in communities across the country, collecting information on the adolescents themselves has proven to be a tough challenge. The California Youth Homeless Project said last year that no city in the U.S. has an accurate count of its homeless youth population. New America Media reports that black homeless youth are less likely than their white counterparts to self-identify as homeless, which means their numbers may be larger than previously estimated. A 2012 Williams Institute study, however, found that 40 percent of homeless youth seeking assistance from service providers identify as LGBT.
To learn more about Bellefaire JCB's mission to raise awareness about youth homelessness, visit the campaign's website. You can also text CLEKIDS to 20222 to donate $10 towards the mission. A 24/7 confidential hotline for youth in need is available at 216-570-8010.
PHOTO GALLERY
Mannequins invade downtown in homeless youth campaign