An activist group is attempting to dismantle rape culture one condom at a time.
Non-profit organization FORCE: Upsetting Rape Culture recently released a new line of "consent condoms" with clever and informative slogans such as "Consent is asking every time" and "Drinking is not a crime, rape is" displayed on the wrapper. In collaboration with Say It With A Condom, the sexual assault awareness campaign was created to, "Promote the usage of proper language when engaging in any intimate activity."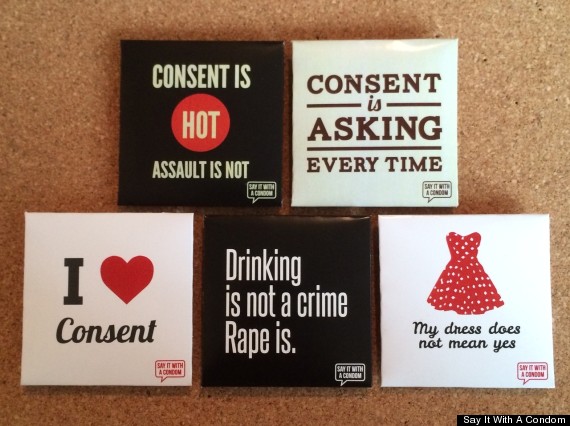 "Consent should never just be assumed or implied," the website's mission states. "Always ask for a 'yes' before you undress, and use these condoms responsibly -- and with consent."
Benjamin Sherman founded Say It With A Condom after he created a condom wrapper advising users to "Remember the election with their next erection" to promote voting in the 2008 election. Since 2008, Sherman has shifted his focus to sexual assault awareness through empowerment and a healthy dose of comedic relief. "We knew FORCE was the right partner for this campaign because we have the same end goals. We're both trying to encourage consent in unique, fun ways that are just crazy enough to make a real difference," said Sherman in an announcement for the collaboration on FORCE's Tumblr.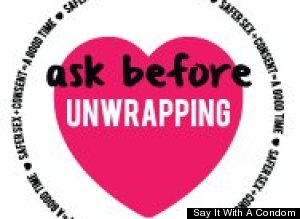 FORCE is no stranger to activism. Last Fall, the non-profit was behind the (sadly) fake "Consent Is Sexy" Victoria's Secret ad campaign which featured regular women in underwear with slogans like "Yes," "No" and "Ask First." Although the campaign was not real, the ad went viral and started a much-needed conversation about consent and rape culture.
While a small slogan on a condom wrapper won't stop every rape from happening, it's ventures and ideas like these that contribute to the overall fight to end sexual assault.
[h/t BUST]
BEFORE YOU GO
PHOTO GALLERY
8 Period Facts Every Woman Should Know