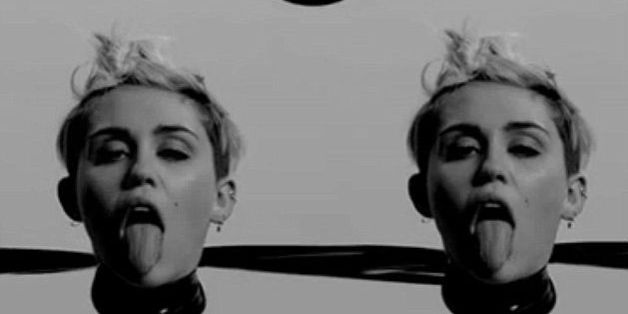 If Marilyn Manson and Lady Gaga got together and had a pretentious baby, it would be Miley Cyrus in this two-minute video directed by mixed-media artist and filmmaker Quentin Jones.
"Miley Cyrus: Tongue Tied" airs before the 21-year-old singer takes the stage for her "Bangerz" shows, according the New York Daily News, and it's got everything. Electrical tape covering her nipple? Check. Black oil to smear all over her body as she writhes to the music? Check. Weird, cartoon-like cutouts of her eyes and tongue? Check and check. The sense that the director wanted to remake Madonna's "Human Nature" video if it were on LSD? Check.
Though Cyrus is nearly nude in the video, the piece is less about sex and far more about the ability to give you nightmares.
BEFORE YOU GO
PHOTO GALLERY
Miley Cyrus' Transformation