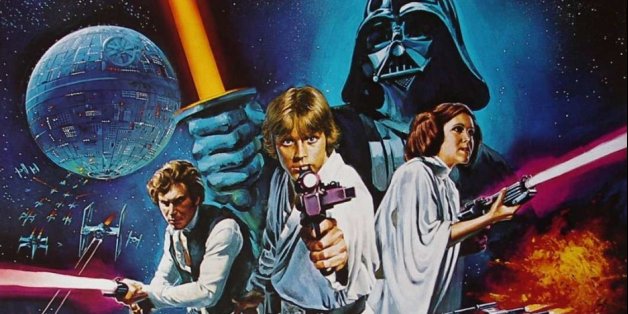 On the heels of the long-awaited cast announcement for "Star Wars: Episode VII," the Academy of Motion Picture Arts and Sciences is reminding us of a long time ago in a galaxy far, far away (or just 1976) when the first intergalactic roster was revealed.
The cast for 1977's inaugural "Star Wars" movie was revealed in an issue of Variety at the time, and this week the AMPAS excerpted photos from the trade magazine in which we first learned that Mark Hamill, Carrie Fisher and Harrison Ford would star in the space epic. All three actors, particularly Hamill, were relatively unknown at the time, so Alec Guinness, who'd won the 1958 Oscar for "The Bridge on the River Kwai," was listed as the film's "top role" -- despite Obi-Wan Kenobi being described in the magazine as a "bearded old desert rat who was once a leading general in galactic wars."
Most fascinating, you can see early documentation of George Lucas' friendship with Steven Spielberg. The latter director placed a full-page ad congratulating Lucas on "Star Wars" having steamrolled the box office record set by 1975's "Jaws."
The Hamill announcement touts an $8 million budget entering production. Adjusted for inflation, that's $33.2 million by today's standards. For comparison's sake, "Star Wars: Episode III - Revenge of the Sith" was made in 2005 for a reported $113 million.
The movie was scheduled for a Christmas 1976 release, but it didn't hit theaters until May 1977.
Peter Cushing was one of the more veteran actors to join the cast.
Notice the following ad says the plot centers on Luke Starkiller, which was from Lucas' original script.
BEFORE YOU GO
PHOTO GALLERY
Celebrity News & Photos