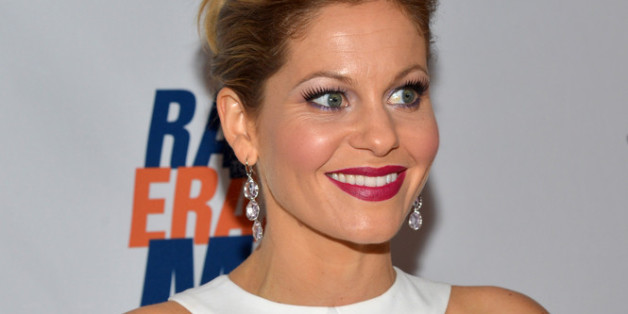 At 37 years old, Candace Cameron Bure feels better now than she did a decade ago.
"I've grown to love my body and I'm very happy with it," Cameron Bure told Us Weekly at the annual Race to Erase MS event on Friday, May 2. "I'm confident with my body and at my age -- not that I'm super old -- but I feel like I look better now than I ever did in my 20s. I love my body."
Her three children have something to do with it.
"It's self-confidence, but I've also gotten more in shape than in the past even 10 years since I had my kids," she added.
Cameron Bure has struggled with body issues in the past.
The actress grew up in front of the cameras playing D.J. Tanner on the hit family series "Full House" from 1987 to 1995. After the show ended, she married professional hockey player Valeri Bure when she was 20 years old and moved to Montreal for his job. It was then that she battled bulimia.
"That really was the time of identifying with being an actress and that being my whole life, and then now being someone's wife and moving to a new city, a new country even," she told OMG! Insider last year while promoting her book, Balancing It All. "I turned to food for comfort and had to find a different source, because clearly it wasn't a healthy way to deal with things. So that's really when my faith was kicked up a notch and sought comfort in my relationship with God -- and not with food."
Cameron Bure is currently competing on Season 18 of "Dancing With the Stars."