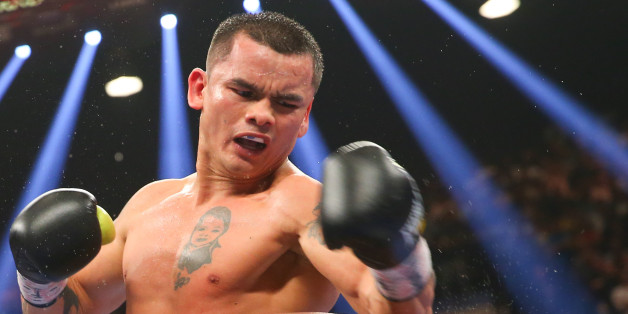 Marcos Maidana did not stop taking swings when the final bell sounded.
Following 12 hard-fought rounds with Floyd Mayweather Jr., Maidana kept the jabs, verbal ones, coming during a post-fight interview. Mayweather emerged from the punishing welterweight title bout with his record unblemished thanks to a majority decision but Maidana offered a different assessment than the judges.
"I definitely think I won this fight," Maidana said, via Showtime.
The 30-year-old Argentine gave Mayweather arguably the most difficult fight of his undefeated professional career, constantly pressuring him and even bloodying the virtually untouchable fighter with an accidental head butt in the fourth round. Maidana threw an incredible 858 punches and landed 221, according to CompuBox. That was the most punches landed against Mayweather in any fight scored by CompuBox, reported The Associated Press. Mayweather threw fewer punches, 426, than Maidana but landed more, 230.
"Floyd did not fight like the man I expected him to," Maidana added, according to Showtime. "He made me change the gloves. I had bigger gloves and everything and I still gave him a fight."
Maidana's gloves were a source of contention leading up to the fight as Mayweather's camp objected to the amount of padding. The dispute was ultimately resolved and the fight went off as scheduled in front of 16,268 at the MGM Grand Garden Arena in Las Vegas on Saturday night.
"This was a tough, competitive fight. This is what fans want to see," Mayweather said, via Dan Rafael of ESPN. "I want to give fans an exciting fight. Normally, I box and move. Tonight, I gave fans an exciting fight."
Part of the excitement was the seemingly wild attack deployed at times by Maidana as he sought to deal Mayweather his first career defeat. Following the bout, Mayweather also took a swipe at Maidana's style.
"Are we talking about shots to the head or low blows? Bad shots?" Mayweather responded to a question about the unprecedented number of punches landed by Maidana during the post-fight press conference, via Boxing Scene. "He was the guy holding me with one hand and hitting me with the other. I thought I was a boxer and he was a WWE wrestler."
BEFORE YOU GO
PHOTO GALLERY
PHOTOS: Mayweather vs. Maidana