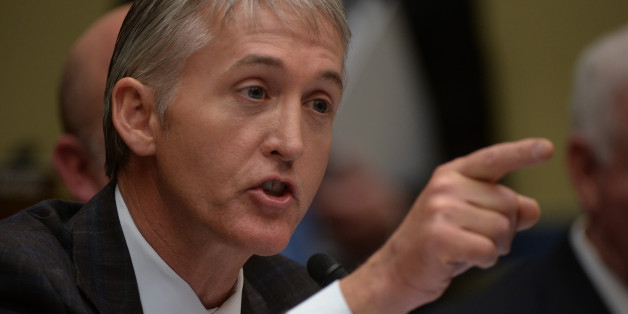 WASHINGTON -- House Speaker John Boehner (R-Ohio) on Monday tapped Rep. Trey Gowdy (R-S.C.) to chair a new select committee to investigate the 2012 attack on the U.S. diplomatic mission in Benghazi, Libya.
Gowdy, a former federal prosecutor, has been actively involved in the GOP probe of the incident in his role as a member of the House Committee on Oversight and Government Reform. Boehner announced last week that he was creating the new Benghazi select committee in response to the administration's "dismissiveness and evasion" on the matter.
White House press secretary Jay Carney dismissed the committee as Republicans' latest effort to politicize the attack, which left four Americans dead, and suggested the White House may not cooperate with the panel's requests.
"We have always cooperated with legitimate oversight," Carney said during his Monday briefing. "We have cooperated extensively with Oversight on this matter ... even as some Republicans have said it is not always legitimate and is highly political. You can make your assessment of how serious it is."
State Department spokeswoman Marie Harf offered a more blunt assessment of the committee's role.
"A waste of time and taxpayer dollars," Harf said during Monday's briefing. "It's not necessary."
Carney noted that there have already been seven separate House and Senate committee investigations into the matter, including 13 hearings and 15 member briefings. More than 25,000 documents have already been reviewed.
These efforts have produced little new information, but House Republicans have renewed their focus on the Benghazi attack regardless. In addition to Boehner creating the new committee, Rep. Darrell Issa (R-Calif.), chairman of the oversight committee, last week subpoenaed Secretary of State John Kerry to testify on Benghazi later this month.
A House Democratic aide told The Huffington Post that Democrats are reserving judgment for the time being on whether or not they will participate in the select committee, adding that leadership will make a decision once they hear from Republicans about the committee's scope and the number of participants, along with other pertinent details. On Sunday, Rep. Adam Schiff (D-Calif.) called on his colleagues to avoid the committee, deeming it in advance to be a partisan witch hunt.
Sam Stein contributed reporting.
BEFORE YOU GO
PHOTO GALLERY
Attack On U.S. Compound In Benghazi