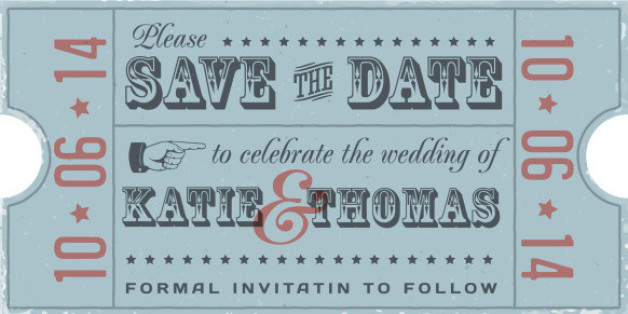 The rules of wedding etiquette are constantly changing, making it difficult for modern brides, grooms and guests to find up-to-date and correct information. That's why we launched #MannersMondays, a weekly series in which we ask our followers on Twitter and Facebook to submit their most burning etiquette-related questions. Then, with the help of our team of etiquette experts, we get you the right answers to your biggest Big Day dilemmas. Check out this week's question below!
@HuffPostWedding Are e-save the dates tacky? Would love to hear your thoughts!

— Jenn Yokley (@jennyokley) February 11, 2014
Anna Post -- great-great-granddaughter of etiquette guru Emily Post and author of Emily Post's Wedding Etiquette -- is here to help us answer this week's question. Find out what she had to say below:
Electronic save-the-dates aren't tacky. In fact, some from companies like Paperless Post are quite beautifully designed and "open" with sophistication. It's more a question of whether or not they are the right fit for your wedding. One of the big reasons to use e-save-the-dates is convenience. Traditional save-the-dates (which I sent out last month for my own wedding this summer) require ordering, waiting for delivery, addressing, applying postage and snail mailing. And to do that, you first need to track down street addresses for everyone you plan to invite -- that's not information most of us have handy. I loved the postcard design we picked, but there's no denying that it took some time to get them all out the door.

With e-save-the-dates, you likely have many, if not all, of your guests' email addresses, and it's easy to choose your design, pay online, upload your addresses and send, all with a few clicks.

But here's the catch: I recently cleaned out my spam box and found an e-save-the-date that had been marked as spam weeks earlier. And I'll admit that I don't always check my spam box before emptying it, so delivery isn't always guaranteed. There's another reason to consider paper: substance. A paper save-the-date can go on a fridge or be propped up on a mantle, becoming a regular reminder of the wedding to come. For some guests, they are even keepsakes. An e-save-the-date is ephemeral and quickly lost in an inbox once the message is closed. Lastly, some guests may not have email, or at least not email that they check regularly (think grandparents).

This isn't to say I think e-save-the-dates are a bad idea. There are a couple of situations where they make a lot of sense. For example, if many of your guests are overseas, snail mail might arrive too late to be of use. Or if you have strong feelings about not using paper for environmental reasons.

Another consideration as you decide: How formal is your wedding? Part of the job of save-the-dates (though less so than with wedding invitations), is to give guests an idea of the event to come. It's not a perfect science, but the more formal your plans are, the more likely that a paper save-the-date will start to set the tone you want your wedding to have.

Whatever your reason, if you do opt for e-save-the-dates, be sure that the email addresses you use are up-to-date, and be willing to accept that a few might not get through. Lastly, extend the message with a phone call to anyone who might not check email regularly. Or better yet, have the best of both worlds: Choose a design that can be sent either electronically or through the mail, and order a few paper ones for those guests you think might not receive (or appreciate) an e-save-the-date.
You can submit your wedding etiquette questions via Facebook or tweet them to us @HuffPostWedding with the hashtag #MannersMondays.
BEFORE YOU GO
PHOTO GALLERY
Patterned Invitations That Pop