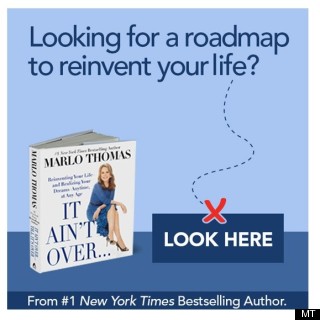 Do you ever feel stuck in your life? Do you ever think about a dream you once had that you never achieved? Do you ever say to yourself, "Well it's too late for me to start over now?"
Well, I happen to know a few women who weren't afraid to try: one who became a doctor at age 50; another who, after a lifetime of obesity, lost 250 pounds; and still another who, laid off from her corporate job, started making caramels in her kitchen that now sell in 900 gourmet food stores across the country!
People have begun to dream again -- women especially. And it feels to me like the birth of a new generation -- the Reinvention Generation -- populated by those who are not daunted by what they haven't done, but, instead, are empowered by the idea that they can go for it now.
That's what why I created my new book, It Ain't Over Till It's Over. Inspired by the hit series on MarloThomas.com, it features 60 all-new stories about women who were at a crossroads in their lives and went for the gold! But its more than just a collection -- its like a map that shows you how you can do this, too. How you can find the key to unlock that special dream in your life and have your own eureka moment. These women's stories will help you.
Although the women in the book couldn't be more different, what they have in common is that they all dared to dream again -- and they all knew that no one had the power to make their dream come true but themselves. So, I hope you'll read It Ain't Over Till It's Over, and meet these remarkable women, all of whom have proven that "impossible" is just something that hasn't happened yet. As I read and reread their stories, they make me think of something I was told a long time ago: If you want to predict the future, invent it.
Add Marlo On Facebook:
Follow Marlo on Twitter:
Sign up to receive my email newsletter each week - It will keep you up-to-date on upcoming articles, Mondays with Marlo guests, videos, and more!