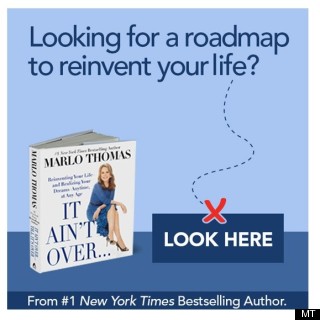 "One of the reasons I started my website is that I wanted a place for women to come together and dream. We women need to know that we don't have to hang on to an old dream that has stopped nurturing us—that there is always time to start a new dream. This week's story, an excerpt from my new book It Ain't Over Till It's Over, is about Jamie James, a woman who was tired of constantly losing her cell phone and keys at the bottom of her large purse. So she decided to design a solution which not only simplified her life, but also found its way into the hands of women across the country—and celebrities."—Marlo, MarloThomas.com
Where are my keys?
If she'd said it once, she'd said it a thousand times—Jamie James could never find anything. And it was worst at the grocery store, always provoking sighs and grumbles from the people behind her in line. There she'd be, doing her purse excavation routine, digging through receipts, reading glasses, and candy wrappers looking for the credit card she'd thrown into the leather abyss after her last purchase.
"I was always moving too fast to stop and put things back in my wallet," Jamie confesses.
Jamie, mother of four and family law attorney, typically blew into the courtroom like a tornado, digging through her oversized bag for a ringing phone, never able to find it. "I felt like a bag lady," she says. "I needed to simplify."
She envied her daughter Kaitlyn, who organized all of her essentials (college ID, credit card, and even a random $20 bill) by tucking them inside the protective silicone gel skin surrounding her cell phone so they were always handy.
But clever or not, Kaitlyn's system wasn't foolproof. "Mom, you're going to kill me!" she moaned one day after losing her credit card—yet again. The problem was that over time, the soft cell phone case would stretch, allowing her valuables to slip out and vanish.
There has to be a better way, thought Jamie. How great would it be to have one compact, convenient place where I could stow all of my must-haves: cell phone, cash, AmEx, debit card, driver's license, health insurance card, and keys?
That's when Jamie began thinking again about designing a product that busy women like her could use to hold all of their "vitals." "It was almost like, if I could figure this product out, then I could figure me out. I needed to do something that was happier."
Article Continues Below Slideshow
PHOTO GALLERY
Jamie James
Jamie knew she couldn't outright quit her career, but she could start taking steps toward creating a business. A month after moving into their new home, she hosted a dinner party for four couples. She cornered her friends' husbands and showed them a prototype of the product that she'd whipped together. It was the very definition of jerry-rigged: She'd cut some slits in the back of a gel skin phone cover that would serve as credit card slots, taped a piece of cardboard on as a makeshift cover, and added a string to form a wristlet. Not much to look at, but Jamie pointedly wanted to get the guys' opinions.
"I knew my girlfriends were more likely to be supportive and say, Yes, you should do it!" she says. "But the guys would be brutally honest."
At first, the husbands didn't really "get" what Jamie was showing them, until she asked them a few questions: Does your wife ever have trouble finding the phone when you call her? Does she always have to root around in the depths of her bag to find her keys? Does she make you carry her phone and ID when you go out?
Yes, yes, and yes. The men got interested and started brainstorming.
"I always have to carry her lipstick, too!" one said. "Can you add a place for that?"
"I know a website guy!"
Jamie took her prototype to her tailor along with some fun fabric."I was so nervous. I told him, 'This is just between you and me. It's our secret.'" But when she saw the finished product a few days later, her butterflies went away.
"It was so exciting to hold in my hands what had once just been in my head!" she recalls.
To test out her creation, Jamie began using it everywhere—at cash registers, at restaurant tables, at the ATM, in bathrooms, and at her desk. And—bingo!—it actually did what she wanted it to do: made her life simpler. But in doing so, it was getting filthy fast. Jamie realized she was going to have to manufacture it in leather. Problem solved.
"Everything you needed was in the palm of your hand," she says. Now all Jamie needed was a manufacturer—and she found one at a horse show, where a vendor was selling beautiful leather goods. They started talking and two months later, Jamie visited the company. "That's when the lawyer in me came out," she says. "I asked the president to sign a nondisclosure agreement so he couldn't steal my idea."
"I was thrilled at his reaction. He took one look at my product, hit his head, and said, 'I can't believe nobody else has thought of this!'" Over the next few months, Jamie picked out her favorite Italian leather and fine-tuned the design, and in January of 2011, production began.
But what to call it? "My friends and family encouraged me to name it after myself, but then someone said to me, 'Someday you'll create another invention and what are you going to call that? You want Jamie James to be the name of your company, not your product.'" On a long drive home from a ski trip, Jamie, her husband, and her daughter Kaitlyn (via speaker phone) spitballed names and came up with the winner: the Cellfolio.
When the first 600 Cellfolios were delivered, Jamie was ecstatic. She was also overwhelmed by what lay ahead. "That's when the real work came. I had this product that I had borrowed thousands of dollars against our retirement accounts to make, and now I had to figure out how to get it out there."
And figure it out, she did. Today, Jamie, who hasn't used a purse in three years, has sold so many Jamie James Cellfolios that she has been able to repay the retirement funds she'd tapped to get her invention off the ground. "The goal now is to get to a financial place where I can get out of law completely and just do this thing I love," she says.
In February 2013, after the Cellfolio was mentioned in a Los Angeles magazine, it was chosen to be included in the gift bag for the Academy Awards—and Jamie got to fly out for the ceremony.
She also streamlined her inventory by creating a design made solely for iPhones. "When I did the market research, I found out that 70 percent of people in the U.S. carry an iPhone.
"It's almost been like a rebirth," Jamie says of her Cellfolio adventure. "I was lucky that I was only 50 when all of this came into being. I still had time in my life to be something else!"
To read Jamie's story in its entirety, and to find out how she created the Jamie James Cellfolio, get your copy of It Ain't Over Till It's Over, on sale now.
Add Marlo On Facebook:
Follow Marlo on Twitter:
Sign up to receive my email newsletter each week - It will keep you up-to-date on upcoming articles, Mondays with Marlo guests, videos, and more!