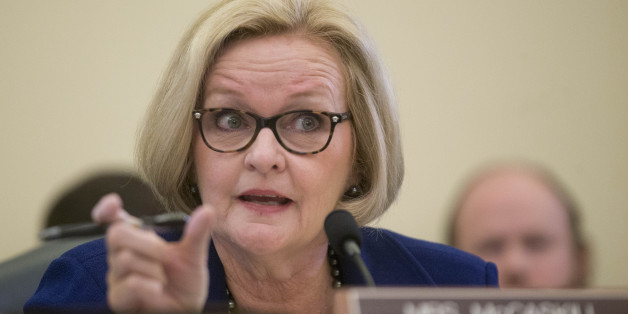 Three Senate Democrats are planning a series of round-table discussions with students, prosecutors, campus police and university administrators on college sexual assault.
Sens. Claire McCaskill of Missouri, Kirsten Gillibrand of New York and Richard Blumenthal of Connecticut will hold three events, one focused on campus safety laws the Clery and Campus SaVe Acts, one on the gender equity law Title IX and a third on how both colleges and the criminal justice system respond to campus rape.
The announcement of the round-table discussions comes just a week after the release of a White House task force report on college sexual assault. It also follows a ramp-up in congressional attention to the issue. All three senators have major universities in their home states that have been accused of mishandling sexual assault cases, and each lawmaker has signaled that they plan to file legislation on the issue.
"It's clear we have a lot of work to do to tackle the systemic issues that prevent victims from reporting these crimes, that prevent schools from effectively protecting these victims, and prevent clear and proper enforcement of federal law," McCaskill said in a statement. "These meetings will help us understand, from those who know best, what more we can do for students, administrators and law enforcement to give them the tools they need to curb this epidemic."
Although the White House recently detailed a series of steps it plans to take through the Justice and Education Departments, and although the Campus SaVE Act -- arguably the most significant reform to laws governing college rape in a generation -- passed just last year, the senators still see room for further action.
The report from the White House task force includes little in the way of specific proposals for legislation. Rep. Patrick Meehan (R-Pa.), who authored a bill on college sexual assault in 2012, said it was the right approach for the Obama administration not to try to present a bill.
"I think first this is one of those good areas in which bipartisanship can be reached because public safety is not a partisan issue," Meehan said in an interview with The Huffington Post. "There's also an interest by our colleagues on both sides of the aisle in both understanding the problem more and pursuing wherever the legislative opportunities arise."
Laura Dunn, a campus sexual assault survivor who started the nonprofit SurvJustice, agreed that it was appropriate for the task force not to press harder for specific legislative action.
"The White House only has so much power, so it's very much purposeful certain things are left out," said Dunn, who helped lobby for the passage of the Campus SaVE Act. "That being said, the White House has significant power to demand increased enforcement of existing laws."
Many of McCaskill, Gillibrand and other lawmakers' efforts on the college sexual assault issue have attracted bipartisan support. Last month, Gillibrand and Blumenthal sent a bipartisan letter to the White House calling for a restructuring of how the Education Department handles sexual assault reviews, and for a national survey of students on sexual violence. Both ideas were mentioned in the task force's report.
In January, a bipartisan coalition in the House, which included Meehan, called upon the Education Department to disclose which colleges are under Title IX investigation, a step the department took last week.
Survivor activists who have spoken with HuffPost say McCaskill and Gillibrand's staffs have remained in touch with them for the past few months, soliciting input on what potential legislation might look like. Some of those same survivors, along with experts on the topic, are expected to be invited to the round-table discussions, which will take place on May 19, June 2 and June 16.
BEFORE YOU GO