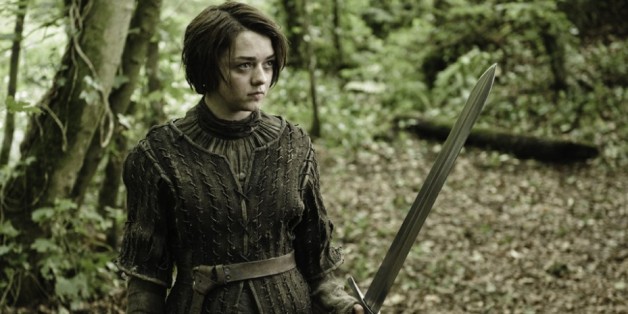 All men must die, right? Not according to "Game of Thrones" star Maisie Williams.
George R.R. Martin is notorious for killing off main characters in his book series, but since the last few episodes of the show have veered off the page and into unfamiliar territory for both readers and TV viewers, no character in the Seven Kingdoms seems to be safe, including one of our favorite Stark kids. Williams, who plays spunky, revenge-seeking Arya Stark, revealed plans to keep her character alive for the next few seasons of the hit HBO series.
"You've got to be nice to the script writers," Williams said in an interview with BBC Radio 1.
Looks like it's working. Arya is one of the most beloved characters on the show and we're seeing even more of her in this season. And while "GoT" is smashing all kinds of ratings records these days, Williams admitted her new found fame can sometimes get the best of her.
"The viewing figures keep going up and up and people are catching up with the box sets now," she said. "It's really great, but also really daunting. During season one and two I didn't get recognized."
Like normal folk, she is completely in the dark when it comes to plot twists on the show. "They keep it so locked up, it's so top secret," Williams said. "No one tells me anything."
"Game Of Thrones" airs Sunday at 9 p.m. EDT on HBO.
BEFORE YOU GO
PHOTO GALLERY
'Game Of Thrones' Season 4