When Tobias Debardeleben, a 47-year-old who has suffered from bipolar disorder and schizophrenia, was released from prison about a year ago, he found himself broke and homeless. Tired of being continually displaced on the streets and getting ticketed for breaking city rules, he recently took matters into his own hands and turned to the trees.
Last week, Debardeleben built a makeshift tree house along a major highway in Honolulu, where he lives with a friend, according to a report by Hawaii News Now.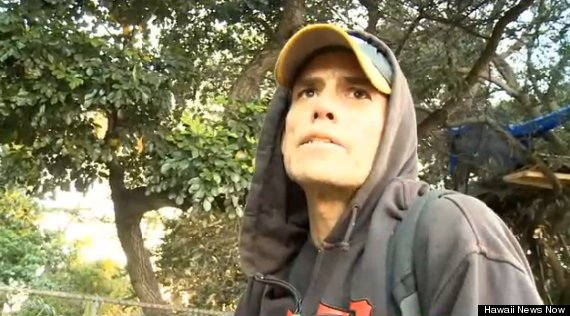 "There's a lot of people living under the bridges and stuff ... I'd rather go up," said Debardeleben. "It's sort of nice up there. You're away from everything."
Despite signs warning against trespassing, another tree house was recently erected (and subsequently removed) in Honolulu, suggesting that others may agree with him.
"They're making it impossible on the streets for anyone. They're kicking everyone off," Debardeleben told Hawaii News Now. "They're giving fines out for everything."
With an estimated total of 17,000 homeless people, Hawaii has the highest rate of homeless per capita of any state. Attempts to ameliorate the problem, however, have proven difficult.
Last July, the state came under intense scrutiny when the legislature passed a controversial "return to home" program. The program would pay for a one-way plane ticket for a homeless person to return to his or her family in the continental U.S, but Hawaii's Department of Human Services decided not to implement the program.
"We are not in the business of relocating homeless individuals and families to other states," the state's Department of Human Services director Patricia McManaman told Honolulu Civil Beat last summer in a statement. "If an individual wishes to return home, they should reach out to family members or seek support from charitable organizations."
While other states have implemented similar "return to home" programs with mixed results, Hawaii continues to struggle with its homeless population.
"I think that people are looking for a safe place for themselves where they won't be in other people's way," Connie Mitchell, executive director of the Institute for Human Services, told Hawaii News Now of the recent move to tree houses. "But also they'll have their own space."
Unfortunately for people like Debardeleben, the tree houses are not likely to last. Officials from the Hawaii Department of Transportation believe the dwelling is located on state land. Without proper permitting, the agency says it is illegal to build anything on the department's roadside right-of-ways, and clean-up crews regularly clear out any encampments.
To help the homeless find safe shelter, the agency does work with local social service groups.
But for his part, Debardeleben says he's done being homeless. Thanks to social security checks, he told Hawaii News Now, he's getting ready to move into a permanent place soon.
h/t Hawaii News Now
BEFORE YOU GO
PHOTO GALLERY
States With Highest Child Homelessness