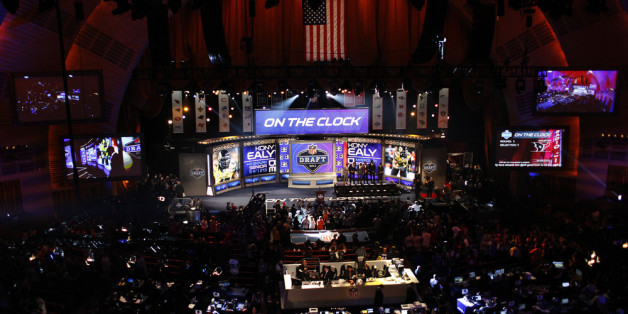 The clock at the 2014 NFL Draft is finally ticking. The mock drafts will be obsolete shortly but the latest line of caps worn by players selected will be garish in perpetuity.
NFL Commissioner Roger Goodell officially opened the first round of the 2014 NFL Draft by stepping to the podium at Radio City Music Hall in New York City on Thursday night and announcing that the Houston Texans had just 10 more minutes to reveal their selection. The Texans earned the first overall selection by finishing the 2013 season with an NFL-worst record of 2-14. Following months of speculation that the Texans could trade out of the top spot in the first round, Houston went ahead and kept the pick. They also used it on the player that has long been expected to be taken with the No. 1 overall selection: defensive end Jadeveon Clowney out of South Carolina.
With the No.1 pick in the 2014 #NFLDraft the #Texans select... JADEVEON CLOWNEY. pic.twitter.com/zBEh4vF5x7

— Houston Texans (@HoustonTexans) May 9, 2014
"It feels great," Clowney told ESPN's Suzy Kolber after getting his hug from Goodell. "I'm glad to be a part of the organization. I'm ready to get to work."
After Clowney was off the draft board and the St. Louis Rams were on the clock, the spotlight shifted to quarterback Johnny Manziel, wide receiver Sammy Watkins and the remaining players on the scene at Radio City Music Hall.
SCROLL DOWN FOR ALL FIRST-ROUND PICKS
PHOTO GALLERY
2014 NFL Draft Picks