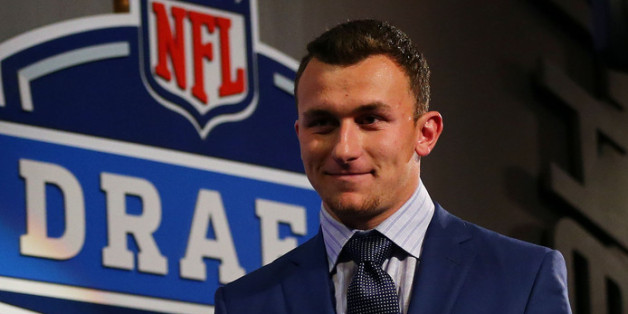 The National Football League didn't exactly offer Johnny Manziel a warm welcome.
As the Heisman Trophy-winning quarterback waited, and waited, for his name to be called during the first round of the 2014 NFL Draft, the official Twitter account of the NFL joined in the social media schadenfreude.
#SadManziel???

— NFL (@nfl) May 9, 2014
Manziel's awkward wait in the green room at Radio City Music Hall as the picks were made became the leading story of the night. As ESPN commentators seemingly discussed his possible landing spot without pause, #SadManziel and #BeforeManzielGetsDrafted were both top trending terms on Twitter.
#BeforeManzielGetsDrafted
and #SadManziel are the top trends on Twitter.

Twitter, you're a harsh, harsh little world pic.twitter.com/BehKTGL5uK

— FOX Sports NFL (@NFLonFOX) May 9, 2014
The captivating dual-threat quarterback was expected to be picked in the first half of the opening round of the 2014 NFL Draft, according to many experts' mock drafts. The first sign that the former Texas A&M quarterback could be falling came when the Jacksonville Jaguars selected quarterback Blake Bortles with the third overall selection. Manziel than slipped past the Cleveland Browns, Tampa Buccaneers and Oakland Raiders as the early selections were made.
As the Dallas Cowboys went on the clock at No. 16, many following along with the selections on Twitter were hoping that Johnny Football would take his act to Jerry World. Minutes after @NFL tweeted that the Cowboys had selected offensive lineman Zach Martin, the account sent its #SadManziel tweet. The account seemingly attempted to make amends with a #HappyManziel hashtag after the Browns traded up to select Manziel with the 22nd overall selection.
TRADE ALERT!

The Browns have traded up to #22 to select Johnny Manziel! #NFLDraft #happymanziel pic.twitter.com/MFsSDUQ22H

— NFL (@nfl) May 9, 2014