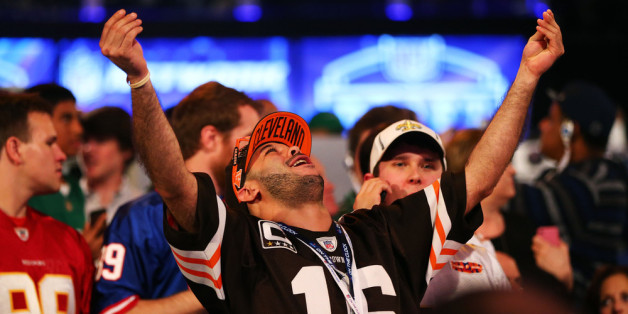 Forgive Cleveland Browns fans if they don't feel too badly about Johnny Manziel's wait to hear his name called during the first round of the 2014 NFL Draft. They've been waiting much longer.
While Manziel's wait in the green room at Radio City Music Hall lasted less than three hours, fans in Cleveland have been waiting more than a decade for the team to draft a franchise quarterback. Ever since the Browns franchise returned to the NFL ahead of the 1999 season, the team has been looking for a dynamic and dependable player to lead the offense. They were still looking when the Green Bay Packers made the 21st selection in the 2014 NFL Draft.
At that point, NFL Commissioner Roger Goodell said the words that many in Cuyahoga County were longing to hear: "With the 22nd pick of the 2014 NFL Draft, the Cleveland Browns select Johnny Manziel, quarterback Texas A&M."
Beginning with the first overall selection in the 1999 NFL Draft, the Browns had drafted seven quarterbacks before Manziel. After those seven quarterbacks muddled through stints in Cleveland that ranged from disastrous to anonymous, each became a reason that fans can't wait for Johnny Football.
PHOTO GALLERY
7 Quarterbacks Drafted By The Browns
BEFORE YOU GO