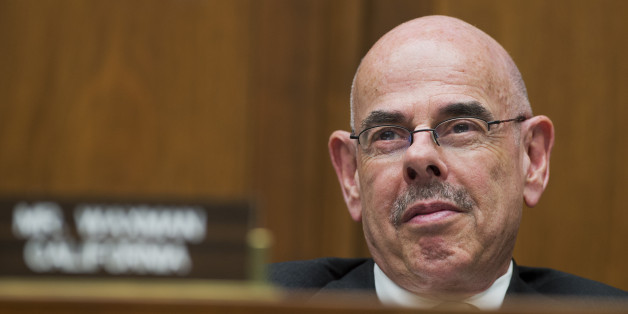 WASHINGTON -- The top Democrat on the House Energy and Commerce Committee thinks it's time for the panel to challenge the NFL's use of the term "Redskins," a known racial slur for Native Americans.
"Offensive remarks by Donald Sterling, the owner of the Los Angeles Clippers of the National Basketball Association, have raised public awareness of racism in sports," Rep. Henry Waxman (D-Calif.) wrote in a Friday letter to committee Chairman Fred Upton (R-Mich.). "I am writing to ask you to hold a hearing to examine another instance of racial insensitivity in professional sports: the use of the derogatory term 'Redskins' as the name of the Washington football team."
Waxman said Native Americans have described the term as "the equivalent of the N-word" and as "one of the last vestiges of racism that is held right out in the open in America."
Yet team owner Dan Snyder and NFL Commissioner Roger Goodell continue to defend the team's name. At one point, Goodell said the name "stands for strength, courage, pride and respect."
Given that the NFL receives substantial tax benefits as a nonprofit corporation, including billions of dollars in taxpayer-funded stadium subsidies, Waxman said the House committee could play a role in "challenging racism" by asking Goodell and Snyder to explain in a public hearing how their actions are consistent with the public interest.
"Fifty years ago, the Washington football team was the last segregated franchise in the NFL," said Waxman. "It took public pressure by the federal government, especially by Interior Secretary Stewart Udall, to convince team owner George Marshall to integrate the team. A congressional hearing could be a similar catalyst for action today."
The matter doesn't appear to be particularly pressing to Upton. "The committee does not have a hearing planned on this specific issue," said Charlotte Baker, a spokeswoman for the committee.
Waxman isn't the first prominent Democrat to call for nixing the team's name. In March, House Minority Leader Nancy Pelosi (D-Calif.) called on the U.S. Patent and Trademark Office to pull the NFL's registered trademark for the name on the grounds that it is disparaging to Native Americans.
The story has been updated with comment from a spokeswoman for the House Energy and Commerce Committee.
BEFORE YOU GO
PHOTO GALLERY
Racist Remarks Made By Politicians